Rick Perry: Herman Cain Has 'All The Characteristics' He Wants In A Secretary Of Defense
Perry: Cain Has 'All The Characteristics' He Wants In A Secretary Of Defense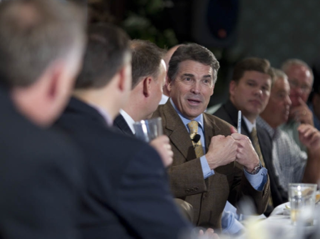 Herman Cain has been off the grid for some time, having dropped out of the presidential race. But even while he was still running for president, he expressed interest in another job, one that puzzled many given his area of expertise: Secretary of Defense. Rick Perry, for one, has not forgotten, praising Cain's foreign policy prowess by telling a crowd in Iowa today, "he has all the characteristics of the type of person I would bring forward" for the job.
RELATED: Herman Cain Wouldn't Be Romney's VP, But He Would Like To Be Secretary Of Defense
Perry was at a restaurant talking to voters in Iowa today when approached about the possibility by a constituent, the Des Moines Register reports. Sadly, as it was a casual Saturday event, there is not yet video. The comment is a particularly confusing one regarding Cain, a lifetime businessman with no experience holding public office, because among the many trademarks of his campaign his reluctance to know anything about foreign policy stands out as particularly memorable. Aside from "999," the most memorable neologism or catchphrase came about when asked about foreign policy: "When they ask me who is the president of Ubeki-beki-beki-beki-stan-stan I'm going to say you know, I don't know."
RELATED: Herman Cain Owns His Foreign Policy Experience: 'Don't Know The 'President Of Ubeki-beki-beki-stan-stan'
Then there is an event that the Register modestly describes as Cain having "problems answering questions about conflict in Libya." This was the interview in which he actually had problems recalling what Libya was, and which managed to put the final nail in his campaign coffin the way not even a sex scandal could. For old time's sake, that interview is below:
Despite being open about his foreign policy weaknesses and attempting to play up his strengths in business, Cain did not express any interest in running the Treasury of the position of Secretary of Commerce. Instead, he told radio host Michael Savage he'd like the exact position Perry is considering him for, apparently:
What possessed Perry to touch the now-toxic Cain, using the one issue that managed to end a campaign that not even a 13-year-old affair could sink– that's a question academics will be toiling with for years to come.
Have a tip we should know? tips@mediaite.com