RNC Chair Reince Priebus: Trump 'Will Have to Answer For' Alleged Treatment of Women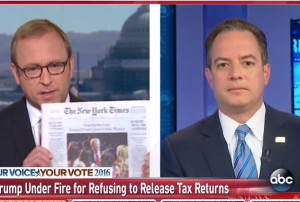 The fallout from that New York Times piece that has Donald Trump in such a lather Sunday morning may complicate his attempts to reconcile with the GOP establishment, if RNC Chairman Reince Priebus' comments are any indication. In two interviews Sunday morning, Priebus tried to downplay the allegations that Trump mistreated women in the workplace and in his personal life, but when pressed, seemed to concede the potential for trouble.
On Fox News Sunday, host Chris Wallace fought back against Priebus' characterization of the story as merely a recounting of Trump's many girlfriends, and forced Priebus to concede that Trump "will have to answer questions about" the allegations in the story, but said they amounted to "potential flaws." He also gave a rather bleak assessment of the race between Trump and Hillary Clinton:
Whether it's going to be a race to the bottom or not, I'm not sure.
In an interview with This Week's Jonathan Karl. Priebus went a good deal further, saying that Trump would "have to answer for" the charges being made against him:
KARL: Do you have any doubts in your mind about Trump's relationship with women, about the way he talks about women?

PRIEBUS: Look, I mean, these are things that he is going to have to answer for, but I also think there are things from many years ago and I think that, you know, as Christians, judging each other I think is — is problematic. I think it's when people live in glass houses and throw stones is when people get in trouble. And so, you know, is Hillary Clinton — it's a classic Clinton operation. Now suddenly these things are coming out.
Priebus' response is the worst of both worlds for the party, both undermining Trump by acknowledging the possibility that the allegations are true, and demonstrating a lack of care on the part of the GOP even if they do turn out to be true.
Have a tip we should know? tips@mediaite.com