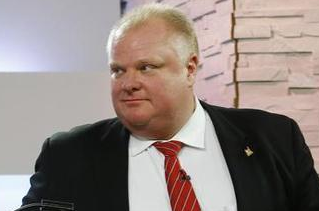 Even though no one in the world knows exactly where Toronto Mayor Rob Ford is right now, he claims to be at an unnamed rehabilitation facility somewhere on Earth to deal with his alcohol and maybe-crack addiction — and in an interview with the Toronto Sun, he was surprisingly ebullient about how much fun fun fun he's having.
"It reminds me of football camp," he told the Sun, adding that he's been clean for precisely a week. "Kind of like the Washington Redskins camp I went to as a kid." And wherever the hell he is, he's with some other Big Deals like himself: "[T]here are two doctors here, a captain of industry and a professional athlete."
He also admitted that he was trying out this strange new thing called taking responsibility for one/s life choices and that it was going swimmingly: "I said to myself, 'Am I going to try to cover it up for the rest of your life or deal with it and go to professional help?' I decided to get help."
While going to rehab for an addiction to whatever substance is generally a responsible thing to do (and we'd never mock that), there's a sense that Ford is only going through the motions of rehab in order to get re-elected as mayor in October. Why would we accuse him of faking remorse? Probably because he all but admitted that his goal was to get re-elected:
Mayor Rob Ford says his supporters need not worry because he'll be back in time for the election — and in fighting shape, too.

"Of course, I am coming back and I am going to kick butt," he said.

While in self-imposed temporary exile, the mayor admitted he's in kind of a working rehab.

"I asked for my calls sheets and I am making calls to constituents," he said. "I am getting help but I still want to help."

The mayor said, however, there is no timeline for his return.

But, he insisted, it won't be his brother, Doug, running for mayor.

"I will be on the ballot for mayor in October, guaranteed, and I will do well," he said, teasing that, "on Oct. 28, there will be no need to change the locks. There will be no need to clean out my office because I am coming back."
Running for political office and conducting interviews while in rehab? Oh that's great. It's a fantastic distraction from actually being in rehab.
[Toronto Sun]
[Image via Mark Blinch / Reuters]
—
>> Follow Tina Nguyen (@Tina_Nguyen) on Twitter
Have a tip we should know? tips@mediaite.com