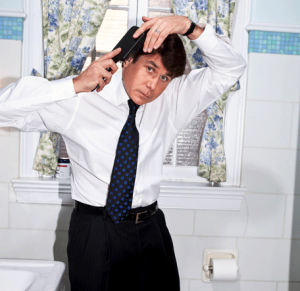 Yes, he really said that. In context, too. When will this idiot go away?
Not this month, because Rod Blagojavich is featured in yet another "Would you believe this guy?" "Did he really say that?" interview, this time in Esquire's February 2010 "People Who Matter" issue.
Here's the money quote:
This guy, he was catapulted in on hope and change, what we hope the guy is. What the fuck? Everything he's saying's on the teleprompter. I'm blacker than Barack Obama. I shined shoes. I grew up in a five-room apartment. My father had a little laundromat in a black community not far from where we lived. I saw it all growing up."
In this particular interview, Blago was also Galileo; in the past he has been, in no particular order, Nelson Mandela, Martin Luther King, Jr., Mahatma Gandhi Winston Churchill, Richard Nixon, King Lear and Martha Stewart. So — let's put this in context!
Ha, ha. The only context is that Blago is an attention-seeking probably-crook, good quote though he may give and charming though he may be. As even author Scott Raab admits, Blago has pulled this schtick on The View and with Jimmy Kimmel and Jon Stewart (see here)
All this said — of course the article is entertaining. It even has a little pathos (it's just such a fall, and so boneheadedly). And his chutzpah really is a marvel, saying stuff like "They stole me away from the people of Illinois" and comparing himself to Galileo because of his, Blagojevich's, "vision and rightness."
Oh, also, the AP asked the White House for comment on Blago's latest (how did they phrase that? And why is Obama's degree of blackness such an issue these days?)
Now please enjoy this video clip of Blago singing "Treat Me Nice" just like Elvis on stage with a Fabio impersonator.


The Notorious Blago [Esquire]
Blago on the Daily Show: Great Hair, Zero Credibility [Mediaite]
Blagojevich compares himself to MLK, Mandela, and Gandhi [ThinkProgress]
Photo for Esquire by Andrew Hetherington
Have a tip we should know? tips@mediaite.com