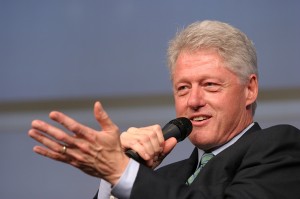 Last week's epic Roger Ailes profile in Esquire contained tons of interesting tid bits. Heck, it was so interesting that the reverberations are still being felt by anyone who even mentions it. But, when you've got to make room for such hilariously bizarre literary flourishes as writing the entire thing as a parody of a Glenn Beck monologue (Seriously, did anyone else read it right after watching an episode of Glenn Beck? I thought the world was ending), not all the interesting facts are going to make it to print. Yesterday, Esquire writer Tom Junod released some of the extra quotes from his research and they included this doozy: Ailes claims he met with Bill Clinton about doing his own talk show.
Here's the quote from Ailes:
"Well, I talked to him. The problem with Bill is he won't be as good on a talk show as you'd think. Because, first of all, he never shuts up. I mean he cannot hit time cues. But I went up to Harlem, I met with him for an hour, an hour and a half, I asked him to do a special, which he's still thinking about. I'd like to have it; I'd like to have him do a special for us. The problem with him in a talk-show mode is not that he's not charming, good, smart, and glib. He is. But he loves to talk about policy. He's actually a policy wonk. So if you really want eighteen minutes on ethanol, he'll give it to you. But it won't get ratings. So you have to be able to produce him and say, 'Most people are not that interested in ethanol, Mr. President. What we'd like you to talk about is this.' And if he would stick with current affairs and stick with the clock, he'd be one of the great talk-show people in the world."
The Bill Clinton Show wouldn't have gotten ratings? I know Ailes helped make the biggest cable news channel currently on but there's no way that could be true. That show would have been amazing. Especially if he brought on celebrity guests who were attractive women. And who cares if he wants to talk a bunch about ethanol and policies and stuff that actually matters. Open and close every show with a saxophone performance and that audience isn't going anywhere.
Oh, well. Guess we'll have to continue to watch Mike Huckabee's show and dream of what could have been.
(h/t The Cutline)
Have a tip we should know? tips@mediaite.com