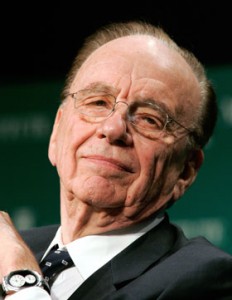 That was fast. After yesterday's allegations from the UK's Guardian that Rupert Murdoch's News Paper Groups company had paid upwards of $1.6 million in out of court settlement 'hush money' to keep evidence from going public that its journos had been illegally wiretapping numerous British public figures, London police have already dropped their investigation into whether widespread illegal hacking had actually occurred. The New York Times is reporting that the case was opened, and then closed just a few hours later. There is to be "no further investigation."
The officer, Assistant Commissioner John Yates, made the announcement only hours after he was assigned by Sir Paul Stephenson, the head of Scotland Yard, to "establish the facts" behind the disclosures. Mr. Yates said he had ruled out a new police inquiry because the Guardian disclosures had added "no additional evidence" beyond a police inquiry of the two tabloids' activities three years ago.
Perhaps not surprisingly a number of people cried foul on the quick decision:
Some people saw politics, too, in the decision not to reopen the police investigation, because the newspapers, with millions of readers, wield enormous power, including the potential to sway general elections.
Of course now that the police have recused themselves of any responsibility everyone else it getting ready to jump in. Public prosecutors are apparently reviewing every one of the files to see if a criminal is warranted, and Parliament is readying some sort of "inquiry" into the matter. That's not all: according to the Guardian, the paper which broke the story in the first place, there are  "aggrieved celebrities contacting lawyers across London." Meaning not only is Rupert's tabloid headache not going away, but it's probably just a matter of time before said tabloids start "employing aggressive and often ethically dubious tactics" to report on themselves.
Have a tip we should know? [email protected]
---