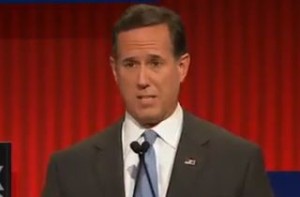 "I need to get this off my chest. I can't stand the media."
So wrote Rick Santorum on his Facebook wall Monday in response to a USA Today article published Sunday, entitled "Santorum acknowledges end might be near."
His post continues:
From the start of this campaign, they've decided that we're not worthy of them. They think it's their job to anoint who they think should be the Republican nominee. Seriously? The media determining the Republican nominee? Give me a break!

We've pushed on and fought tooth and nail for coverage, but yesterday USA Today put the final straw on this camel's back. Enough with being a "statesman." We're fighting back!

They want to FORCE US from the race, but that's the last thing that will happen because next Monday night at the Iowa Caucus we're going to FORCE THEM to cover us. We're going to FORCE THEM to follow us to event after event after event all across America.
But at no point in his Facebook screed does Santorum actually accuse the paper of having distorted the facts or his words. His beef with the article may be attributable to the fact that a.) it reported that RealClearPolitics's latest statewide poll average puts him in 11th place out of 11 candidates, b.) it noted that, thanks to his low poll numbers, Santorum has not been invited to any mainstage debates this cycle, or c.) it actually printed some words that he said to their reporter while giving an on-the-record interview.
USAToday writes:
In an impromptu interview with USA TODAY and The Des Moines Register after attending services at New Hope Assembly of God here Sunday, he acknowledged what he previously has refused to discuss: It may soon be time for him to think about folding his campaign.

"If the people of Iowa put their faith in me, we're going to continue on," he said. "Given the circumstances of this race, I don't think we have to win. We just have to finish ahead of the pack that's sitting in single digits right now. I think we're going to come out with a lot of wind at our back."

And if that doesn't happen?

"You reach a point when you realize that you aren't going to accomplish what you're going to accomplish and you have to look out for the greater good," he responded a bit ruefully. "And I've always believed in the greater good. I'm a person who believes in a cause and trying to make this country better, not about Rick Santorum and my own aggrandizement. I'll go through that process, whether it's after Iowa or whether it's after Super Tuesday or whenever it's happening. We'll go through that process and determine if we have a pathway to get there, and if we believe we do, trust me, no one will fight harder, no one will work longer. And if we don't, you have to work out what's in the best interest of our country."
"Want to help me shove it to USA Today and the reporters like them that want to ignore us and our message of fighting for a better, stronger, and freer America?" Santorum asks.
It's hard to say which part of the article "ignored" Santorum. It reports that Santorum "hasn't thrown in the towel yet," and that he is making an ambitious campaign push in the final days leading up to the caucuses, scheduling more than 50 events throughout the state. It also describes Santorum grumbling that his "supporters from his 2012 bid sometimes tell him they didn't realize he was running this time" — a state of affairs the article's publication can only improve.
USA Today observes that "for any candidate, especially one who came within shouting distance of the nomination last time, it can be hard to admit that the race isn't going to turn in his or her favor in time." Published one day before Santorum's rant, that sentence reads as much like augury as reporting.
——
Follow Sam Reisman on Twitter
This is an opinion piece. The views expressed in this article are those of just the author.