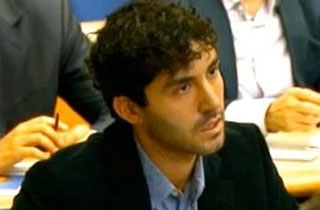 The world of Washington DC journalism is in an uproar after Saudi Arabia denied a visa to an American journalist in the White House press pool, likely due to the reporter's affiliation with the Jerusalem Post.
On Monday, thePost reported that Michael Wilner, the paper's Washington bureau chief, was the only pool reporter denied a visa to Saudi Arabia to cover President Barack Obama's weeklong visit, despite repeated requests from the State Department, White House, and National Security Council to allow Wilner to travel with the President.
While Israel and Saudi Arabia have no diplomatic ties (and aren't exactly on the friendliest terms for obvious reasons), Wilner is an American citizen who has never held Israeli citizenship, though he may have visited Israel in the past. (Disclaimer: I attended college with Wilner.) However, the Post points out that they've sent journalist to file reports from Saudi Arabia in the past.
As of today, the Saudi government has refused to reverse their decision, which the White House officially called "outrageous" and discriminatory. "The denial is an affront not only to this journalist, but to the entire White House press corps and to the principle of freedom of the press that we hold so dear," White House Correspondents Association president Steve Thomma told POLITICO.
Incidentally, the Jerusalem Post seems to be blocked in Saudi Arabia:
@mawilner pic.twitter.com/aKLz6VlJRl

— Amal (@Amal_Ahmad_) March 26, 2014
(Correction: Wolf Blitzer filed from Jordan, not Saudi Arabia as we wrote earlier.)
[h/t POLITICO]
Image via Twitter (@mawilner)
>> Follow Tina Nguyen (@Tina_Nguyen) on Twitter
Have a tip we should know? tips@mediaite.com