Scott Roeder, Convicted Murderer, Cites Pat Robertson As Influence In Court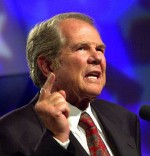 This weekend, the eternally controversial Pat Robertson was again in the news, albeit obliquely, but in no more flattering a circumstance than has become routine in a month of dubious PR.
Monica Davey of the New York Times reports, in an article on the denouement of the trial of Scott Roeder, who was yesterday convicted of first-degree murder in the assassination of Dr. George R. Tiller, the controversial Kansas "abortion doctor," that Roeder claimed Robertson's show spurred him to take up arms against abortionists.
Mr. Roeder told jurors that he had a growing sense of his own faith and opposition to abortion in the 1990s after watching "The 700 Club," the evangelist Pat Robertson's television talk show. Mr. Roeder's views on religion and abortion, he said, went "hand in hand."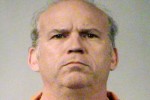 And yet, this sort of controversy if far from new for Robertson. This, after all, is the man who saw in 9/11 a divine rebuke to New York City for sheltering feminists, abortionists, and gays. Hardly two weeks have elapsed since Robertson, the host and spiritual authority of "The 700 Club," made headlines for the unusual bit of theodicy with which he sought to justify the earthquake that routed Port-au-Prince.
"[The Haitian slaves] got together and swore a pact to the devil," Robertson asserted in a January 13th broadcast of the Christian Broadcasting Network. "They said, 'We will serve you if you will get us free from the prince.' True story . . . ever since they have been cursed." Robertson's remarks were widely decried by editorialists and politicians, as well as the Haitian ambassador to the US, Raymond Joseph, the righteous sting of whose retort may be sampled here.
Even more uncomfortably, for Robertson, Roeder was apparently in no way trying to contest or complicate his culpability for the crime by shifting a burden of influence onto the televangelist. Quite the contrary. Roeder's M.O., in court, was brazenly unrepentant, proud, even. The Times says it as well – which is to say, as awfully – as can be done:
So, Nola Foulston, the prosecutor asked Mr. Roeder, do you feel you have successfully completed your mission?
"He's been stopped," Mr. Roeder said.
But do you feel you have successfully completed your mission, she asked again.
"Yes," he said.
Of course, Robertson can't be held responsible for the weaponization of his opinions, convenient as that might be for his critics. So next week, Robertson will be back on "The 700 Club", instructing his viewers in the nuances, no doubt, of yet another historic tragedy.
Have a tip we should know? tips@mediaite.com