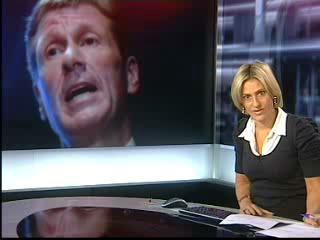 The outrage over the release of Lockerbie bomber Abdelbaset Ali Mohmet al-Megrahi has continued since last week, and the Scottish Justice Secretary who secured the release will face critics today.
Kenny MacAskill will speak before the Scottish Parliament during an emergency session at 9:30amET. And the way it is being reported overseas, MacAskill has a lot to answer for.
The BBC report on MacAskill's upcoming speech includes this as the 2nd paragraph: "Opposition parties will demand to know how Kenny MacAskill aims to repair the damage they claim has been done to Scotland's global reputation."
On U.K. TV, the story is getting major coverage (according to TV Eyes). Here in the U.S., the story of the outrage over the release has gotten more coverage than just what MacAskill has to say. The reaction from the families of the Lockerbie victims has been the biggest part of the story – of the 243 killed on the Pan-Am flight, 189 were Americans.
But will MacAskill's statement later this morning signal greater coverage of the judge himself? One person in the U.S. media who sympathized with MacAskill last week was NBC's Ann Curry. In a post on the Daily Nightly blog last Thursday, Curry wrote:
Still, watching videotape of Scottish Justice Secretary MacAskill, the man who made the decision, you get the sense he's a decent guy.

Here's how he put it:

"Compassion and mercy are about upholding the beliefs we seek to live by … no matter the severity of the provocation or the atrocity perpetrated."

For better or worse, that is not an idea in sync with these times we live in.
Describing the person who released the convicted terrorist as a "decent guy" is not a sentiment that will be very popular here in the U.S.
The other major story in England, that has crossed over to the U.S. through some news outlets and major weekend play on Drudge, is what U.K. Prime Minister Gordon Brown's involvement in the release may have been. If it's shown that Brown pressured Scotland, or even supported Scotland, in the release of al-Megrahi, the outrage here in the U.S. will continue.
But a new storyline will come from this morning's speech.
—–
» Follow Steve Krakauer on Twitter
Have a tip we should know? tips@mediaite.com