SEX WATCH: O'Reilly Fights the Culture War with Blondes, Bikinis and Brutal Puns
We here at Mediaite understand one universal truth about all media strategies — sex sells. Every so often (read: every day) we notice how some of our friends across the Internet use sexy headlines and photos to drive traffic. And what better way to celebrate these recession-busting decisions than in a regular feature? Welcome to SEX WATCH!
• Fox News, The O'Reilly Factor: "Charity says no to bikini car wash money (Culture Wars)" — What's better than having two blondes on The O'Reilly Factor to discuss Make-a-Wish Foundation's decision not to take donations from a bikini car wash ("Bikinis are not pornographic… I wore one this weekend!")? Laughing at your guests when they don't get your brutal "No strings attached" bikini fundraiser puns. VIDEO below.
• Mediaite: "We Are Posting This Totally Because Of The Fish" — Two big questions at Mediaite this morning: How much weight will pecs get as a metric in our Power Grid algorithm? And how shameless do we have to be to link to our own shirtless link-bait in our soft-core Internet porn sneerathon? Answers: We'd have to kill you and … wait — GMA'S CHRIS CUOMO WITH HIS SHIRT OFF?!
• AOL News: "How Do You Feel About Sex?" — So this is what AOL's new "content-led domination" is going to look like. Needless to say the comments on this one are priceless (Teaser: "… Texas rules …" – Abbooty, 11:38:21 PM)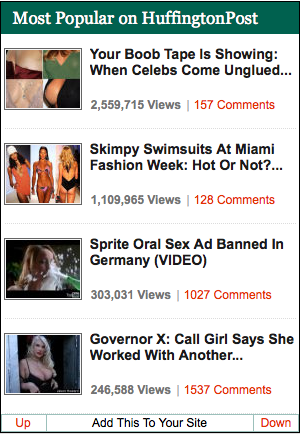 • HuffPo: "Your Boob Tape is Showing: When Celebs Come Unglued (NSFW PHOTOS)" — A slideshow of high-res cleavage close-ups of celebs who tried (and failed) to leave something to the imagination. The best part is that HuffPo puts the cropped close-up before the full photos, so we can play 'guess-whose-rack' while we're studying the risks and rewards of double-sided tape.
• HuffPo: "Skimpy Swimsuits at Miami Fashion Week: Hot or Not? (PHOTOS, POLL)" — Bronze models in the some of the smallest bikinis we've ever seen… hmm, hot or not? Damn you, Huffington Post, for asking us these impossible questions.
• HuffPo: "Sprite Oral Sex Ad Banned in Germany (VIDEO)" — Props to Germany for using interracial fellatio to promote lemon-lime soda. Germany: 1 – American Prudes: 0.
• HuffPo: "Governor X: Call Girl Says She Worked with Another" — Anonymous accusations from 'call girls,' plus a generic photo of a blonde in a doorway spilling out of her bra. Who knew driving traffic could be so easy — 1,500 comments and counting.
Have a tip we should know? tips@mediaite.com