Shepard Smith: "Lately It's Been A Challenge To Separate Fact From Fiction"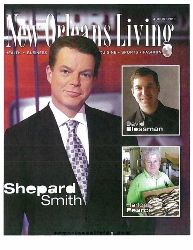 Fox News star anchor Shepard Smith is profiled in this month's New Orleans Living, as we approach the fifth anniversary of Hurricane Katrina.
Smith talked about the coverage of the disaster, in which he distinguished himself as one of the most compelling reporters on the ground there, as well as the opinion vs. news divide at FNC.
Smith is the biggest star at Fox News who isn't an opinion host, so he fields questions like this a lot. Here's part of his answer:
What's important to me is that people get the facts so they can form their opinions and that's my job. Lately it's been a challenge to separate fact from fiction. And during important events like Katrina and the oil crises, our politics need to be out of the way and we need to focus on the facts are so we can identity problems and solve them. That's why I've always enjoyed the news part of it all.
"It's been a challenge to separate fact from fiction." That really sums up a lot of this summer's big media stories…
He also praised his "supportive bosses" for never trying to change who he is. "That's not what they do at Fox, and I think that's part of the key to their success," he said.
There was a moment during FNC's Hurricane Katrina coverage that perfectly illustrated the difference between Shep and the opinion side of Fox News. Shep, live from New Orleans, laying into Sean Hannity, in his New York studio, about the real conditions on the ground. Here's that classic moment. Smith was asked about the coverage five years ago:
We were high and dry at the exit ramp for the Superdome, and we had a lot of fears going through our minds at the time. One of my colleagues and I were sitting there at night, the whole city was dark, and we were trying to figure out what New Orleans was going to be like in five years, and we didn't have an answer. At the time we feared it was just not going to be able to come back.
He also discusses his passionate feelings for the people of that region. Fox News, along with all the networks, will be back in New Orleans for the anniversary. We'll have more on that in the weeks ahead.
—–
» Follow Steve Krakauer on Twitter
Have a tip we should know? tips@mediaite.com