Six Months Later, Scientologists Attempt Revenge On The New Yorker, Make Pretty Magazine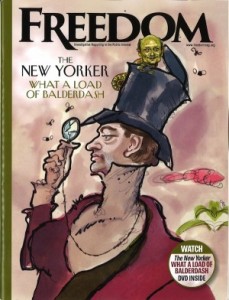 A handful of Church of Scientology members spent their morning milling in front of the 40 Times Square, handing out free copies of a Eustace Tilley-riffing issue of their church's magazine, Freedom, to entering Condé Naste reporters.
Produced as a response to The New Yorker's scientology takedown from earlier this year, the special issue is 51 glossy pages long, comes with a three disc DVD series, and, according to the New York Times' Media Decoder blog, "goes to surprising lengths in attempting to discredit The New Yorker and its staff, naming editors, fact-checkers and others who worked on the Scientology article by name." Sounds impressive, actually! And explains why it took them six-months to strike back.
The New Yorker, speaking to Yahoo's The Cutline, says that they are "confident in Lawrence Wright's reporting and our fact-checking process. And we stand by the story we published." And they probably should: as was reported when Lawrence Wright's door-stopper of a story came out in February, the magazine spent an inordinate amount of time fact-checking the skewering feature.
Scientology spokesman Mark Rinder shed some light on the art project, explaining to Village Voice editor (who happens to be well versed in the church's ways) Tony Ortega that with it, "They're hoping that you or me or Larry Wright will see this and simply give up." He says something about a tendency towards panic and turmoil in the ranks of the church, but seems mostly to believe that the issue was made for the fun of Church of Scientology leader, David Miscavige: "He looks at them and chuckles. And he has spent hours and hours talking about the New Yorker and Larry Wright and Paul Haggis and Marty Rathbun and Mike Rinder. And it's all transcribed. And it gets distributed around to all the minions in OSA or wherever, and they then try to do what COB [Miscavige] said. So he effectively wrote half of that." So that's that — chuckles all around!
Have a tip we should know? tips@mediaite.com