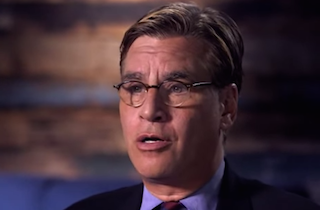 Sports Night creator Aaron Sorkin has spent the past three years criticizing America's feckless and vapid press corps in the past tense. On Monday he finally rendered a verdict in real time.
In an op-ed for the New York Times, Sorkin excoriated the press for reporting the details unearthed by the Sony hack, a massive breach of the studio's data carried out by an unidentified entity objecting to the new film The Interview, a comedy that makes light of North Korea.
Media outlets breathlessly reported the studio plans, juicy gossip, backroom talk, embarrassing statements made in the privacy of emails, actors' salaries and aliases, and more. Sorkin reminded readers that the leaked info also contained social security numbers and children's medical records, and noted the media got far more uppity about purported injustices revealed to have been done to Jennifer Lawrence than the injustice done to those whose privacy was violated.
By reporting the leaked info, media outlets — he called out Variety — were helping a foreign entity break the law, and that was "morally treasonous," Sorkin contended. (Imagine that in Sam Seaborn's voice.)
"If you close your eyes you can imagine the hackers sitting in a room, combing through the documents to find the ones that will draw the most blood," Sorkin wrote. "And in a room next door are American journalists doing the same thing. As demented and criminal as it is, at least the hackers are doing it for a cause. The press is doing it for a nickel."
[h/t New York Times]
[Image via screengrab]
——
>> Follow Evan McMurry (@evanmcmurry) on Twitter
Have a tip we should know? tips@mediaite.com