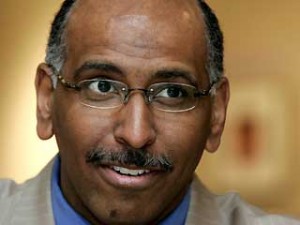 "Both Steele and Palin claim to be devotees of the tea party movement. 'I'm a tea partier, I'm a town-haller, I'm a grass-roots-er' is how Steele put it in a recent radio interview, wet-kissing a market he hopes will buy his book. Palin has far more grandiose ambitions."
— Frank Rich, in today's New York Times op-ed "The Great Tea Party Rip-Off," about how a grassroots movement is being exploited, not only by politicians seeking election, but by companies, marketers and lobbyists.
Frank goes on to question Palin's contract as "speaker for the first Tea Party Convention," for which she will be paid a reported $120,000. (A little more than appearing on InTouch!)
Rich argues: "[T]he tea party movement is being exploited — and not just by marketers, lobbyists, political consultants and corporate interests but by the Republican Party, as exemplified by Palin and Steele, its most prominent leaders."
The entire Tea Party Convention is a profit-seeking affair charging $560 a ticket — plus the cost of a room at the Opryland Hotel. Among the convention's eight listed sponsors is Tea Party Emporium, which gives as its contact address 444 Madison Avenue in New York, also home to the high-fashion brand Burberry. This emporium's Web site offers a bejeweled tea bag at $89.99 for those furious at "a government hell bent on the largest redistribution of wealth in history." This is almost as shameless as Glenn Beck, whose own tea party profiteering has included hawking gold coins merchandised by a sponsor of his radio show.

Last week a prominent right-wing blogger, Erick Erickson of RedState.com, finally figured out that the Tea Party Convention "smells scammy," likening it to one of those Nigerian e-mails promising untold millions.
Read the rest of "The Great Tea Party Rip-Off" here.
Have a tip we should know? [email protected]