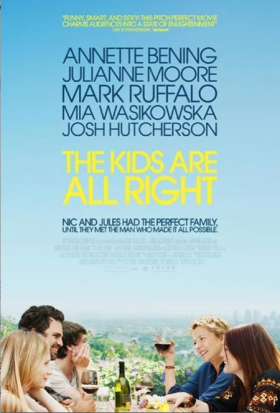 I don't mind other guys seeing movies I want to see and then writing about them. That's fine, especially when it's the New Yorker's Anthony Lane, because he knows this stuff pretty well. But I know sometimes I will go out of my mind, when he spoils the film — like The Kids Are All Right.
Sometimes, I feel I gotta get away from his reviews because he is such a known spoiler — okay that's enough Who-mongering, but still: I didn't want to know the mid-movie pivotal plot-point that he spoiled in the last paragraph of his review.
I've been looking forward to The Kids Are All Right since its buzzy debut at Sundance, since it sounds not only like a fascinating setup, but deliciously fun: California yuppie lesbian couple, played by delightful stars Annette Bening and Julianne Moore, have two kids by a sperm donor, and when they hit those teenage years, they want to meet their father. Father is hottie slacker Mark Ruffalo. Hijinks – and examination of complex emotional questions – ensue. Directed and co-written by Lisa Cholodenko, with great, meaty roles for two women past the starlet age? Readers of this site will know I'm pumped about that. But more generally, it sounds great, and between Cholodenko herself in a long-term lesbian relationship (with musician Wendy Melvoin, longtime guitarist for Prince) and her co-writerStuart Blumberg (Keeping The Faith, By The People) admitting to being a sperm donor, it's bound to push new ground in terms of vérité as well.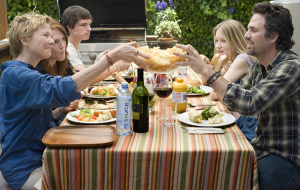 Look at that! Aren't you interested? Don't you want to know more about the movie? Of course you do! But do you want to know a major pivotal plot point? I didn't. I just wanted to read what Anthony Lane thought of the flick (though he didn't seem to get that the whole Cali-Bourgie lifestyle was being spoofed).
Yes, the trailer (below) has more than a hint of said spoiler. But you know, that's where tension and suspense come in, seeing a setup of characters and action and wondering where it goes next. Thanks to Anthony Lane, there's one less thing to wonder about The Kids Are All Right.
Anyhow, I'm still gonna see it. Pretty much everyone in that movie is hot.
Trailer: The Kids Are All Right


Video: The Kids Are Alright


Video: The Kids Aren't Alright


**Disclosure: I know co-writer Stuart Blumberg through the same organization through which I know Roger Bennett and we all contributed to this book.
Have a tip we should know? tips@mediaite.com