SI Swimsuit Cover: Brooklyn Decker Joins Illustrious Pantheon, Tweets About It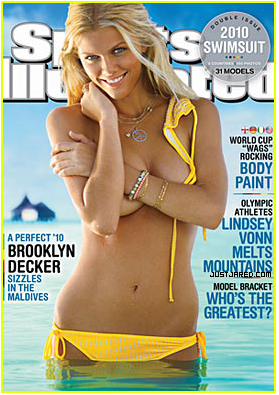 Ladies and gentlemen — eh, who are we kidding, gentlemen — your Sports Illustrated Swimsuit Issue 2010 Cover Model: Brooklyn Decker! As has become something of a tradition, the announcement was made on the Late Show with David Letterman, which broadcast the unveiling of a giant nearly-naked billboard in Times Square. Decker has additional SI heft by marriage: her husband is tennis star Andy Roddick. Wow, too bad their babies will be so ugly.
The SI swimsuit cover is a big deal, and now Decker joins the likes of Carol Alt, Tyra Banks, Cheryl Tiegs, Christie Brinkley, Elle Macpherson, Heidi Klum, Paulina Porizkova, Kathy Ireland, Rebecca Romijn, Rachel Hunter (aka Stacy's Mom) and Beyoncé. This issue features previous cover model Bar Rafaeli, plus Twilight's Ashley Greene clad only in body paint (yowza) and young tennis star Ana Ivanovic rolling around in a pink bikini in a tub of pink tennis balls. Good thing she has modeling to fall back on.
Decker, who made the cover last year via the inset, didn't know until yesterday that she was the 2010 cover girl, tweeting the night before that the models were all "freaking out, unable to sleep 2night, on pins and needles, trying to figure out this darn secret!?! ARGH!" and assuring followers that "a lot of people have been asking if we know who it is.. we really, I mean REALLY don't know!!" Once the announcement was made, she tweeted proudly to thank fans, then again with a bit of media analysis: "The issue is amazing, glowing, fun, the girls are happy.. it's not over-the-top, the girls and editors should be so proud! THANK YOU ALL!!!"
Brooklyn didn't seem to sleep much, tweeting after the revelation shortly before midnight and then again at about 5 a.m. with a link to her shoot video and promoting this morning's Today Show and CNBC appearances (CNBC? Why yes, and tonight they're running a behind-the-scenes "business of" video). Her hubby also excitedly tweeted his pride ("so happy/proud of my wife… the new cover for sports illustrated swimsuit issue!!!! unreal… so excited!!!!!!!!!!"), and there's a nice back-and-forth between Decker and Sports Illustrated senior associate editor M.J. Day, who also doesn't sleep, and is also on it promoting #SISWIM and the live UStream and the @SI_Swimsuit twitter feed. What would Babette March think? Day also captured her covergirl at ease in this TwitPic: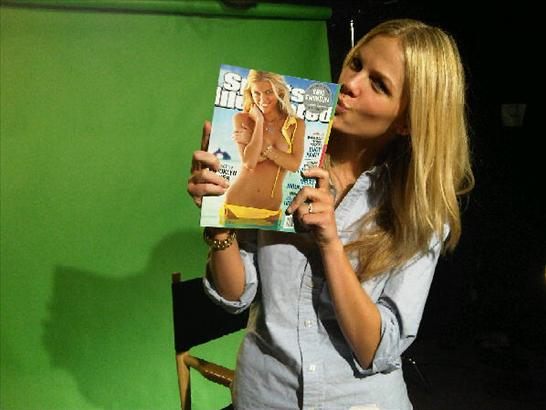 Here's Letterman making the official announcement tonight, with a gag version thrown in for good fun:
The S.I. Swimsuit Issue is a big deal every year, and a slice of American magazine history, credited with bringing the bikini into polite company and ushering in the era of the supermodel. But in this age of multi-media, it's positively a juggernaut. CNBC *may* have some ulterior motives in having produced the documentary Business Model: Inside the Sports Illustrated Swimsuit Issue — not that we'd know anything about that — but it's a a $1 billion enterprise with highly-paid models shot by highly-paid photographers in far-flung locations, from the Maldives to Portugal to India, and that's the kind of money 2010 media companies don't lay out unless there is a guaranteed payback. (Indeed, it's one of the few sure home runs left in the glossy world.) The SI Swimsuit issue remains a sure thing, with the combination of gorgeous photos of gorgeous models in gorgeous locations, and the brand cachet that still animates the franchise. According to Randall Grant, SI Swimsuit photog and senior designer for SI.com, there are more than 1300 images and more than 100 videos on SI.com — and, of course, there's an app for that. They are not kidding around. No doubt there will be brisk traffic to the Swimsuit 2010 site on SI.com (and here are just a few of the reasons why).


Related:
The Sports Illustrated Swimsuit Issue: An intellectual history [Slate]
Have a tip we should know? tips@mediaite.com