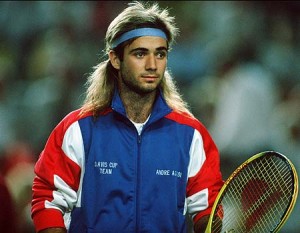 Andre Agassi's shocking (or book-selling!) confession that he abused crystal meth in the late '90s has been the primary promotional push for his upcoming autobiography, and like so many juicy gossip bits today, the info was first reported via Twitter. (Remember Obama's "Jackass"-gate?)
But the Agassi early report was not only surprising and disappointing for tennis fans — it also caused a minor commotion for media outlets like CBS News, whose Katie Couric/Agassi 60 Minutes interview aired last night (two weeks after the news hit), and Time Inc., who planned to break the story with exclusive excerpts in People and Sports Illustrated.
"Can Sports Illustrated scoop Sports Illustrated? That's a question I can't answer," said Agassi's publisher.
The New York Times has the story:
But the day before the magazines were to publish, a writer for Sports Illustrated prematurely revealed on Twitter Mr. Agassi's admission to drug use.

Sports Illustrated removed the post after about 25 minutes, but it was too late. The news broke worldwide, and that evening, a newspaper in Australia that had not bought rights, but had acquired the materials, began publishing parts of the book. Sports Illustrated still had the exclusive — but in a Twitter post that had vanished, and not in the pages of its magazine, which was published the next day, on Oct. 28.
Curiously, there's one important name the Times report leaves out: Richard Deitsch, the reporter who originally tweeted the story. Maybe they felt his identity added nothing to the story, but he probably would have made a great source. A screenshot of his news-breaking tweet can be seen below.

But all of a sudden, company-wide social media guidelines seem like a good idea.
That, or publications need to realize that yesterday's symbiotic model of press and publicity — i.e. "I give you my zany book excerpt drug confession breaking news so you sell magazines and I sell books!" — is outdated. Because! As it turns out, it takes a long time to print pages and the internet has a thing for speed. Game, set, match.
Have a tip we should know? tips@mediaite.com