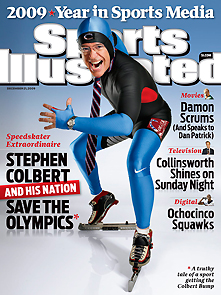 Stephen Colbert made headlines when he announced last month that his viewership (or, as he affectionately calls them, "Colbert Nation") would take over as primary sponsor of the United States' speed skating team in advance of the 2010 Winter Olympics in Vancouver. And the fans have delivered, raising approximately $250,000 for the team in the time since. But it hasn't all been smooth sailing (skating?) for Colbert: his tongue-in-cheek "insults" aimed at Canadians over perceived slights to non-Canadian Olympic teams somehow drew harsh words from star U.S. skater Shani Davis:
"He's a jerk," Shani Davis said Thursday when asked for his take on the comedian's criticism of Canadians. "You can put that in the paper."
Such an incident might normally provide Colbert with a wealth of material, but initially he remained silent on Davis and stayed that way until last night's show, when he not only noted the comments (and effusively praised Davis' skating abilities), but came out with an announcement of his own: Colbert is on the cover of the newest edition of Sports Illustrated, a sports-media-themed issue. Watch below as he anoints himself "the Michael Jordan of people who don't deserve to be on the cover of Sports Illustrated":
Colbert then interviewed another U.S. speed skater, Katherine Reutter, who has been much more receptive to Colbert Nation's stewardship – so receptive that she requested Colbert sign her thigh. He obliged, but his giggly reaction suggested he wasn't expecting it.
One suspects Colbert might have reacted similarly when he heard SI wanted him for the cover: the Associated Press write-up lists only Bob Hope and Chris Rock as other comedians to grace SI's cover. Colbert long ago achieved iconic status in the entertainment world, but the SI cover represents possibly his biggest pop culture coup to date – and expect his self-important pundit character to keep on reminding us all about it.
Have a tip we should know? tips@mediaite.com