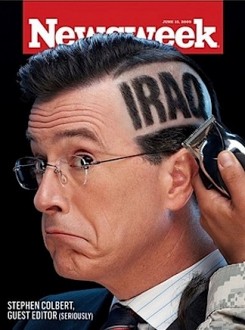 2009 has been a horrible year for the magazine publishing industry. Much has been made of the perfect storm of an ad recession (brought about by a dismal economic climate), and the growth of up-to-the-second digital media. But in the midst of this blizzard of bad news, there has been one beacon of hope for editors and publishers alike: Stephen Colbert. Vanity Fair tells us that putting Colbert on the cover leads to sales!
While he hasn't graced as many magazine covers as Barack Obama, Colbert's visage has become a regular presence on the newsstand. GQ, Newsweek, Entertainment Weekly, Wired, Sports Illustrated, New York and even Parade have put the comedian on their respective covers. The good news for publishers is that issues with Colbert on the cover seem to sell better than those without.
Actually, yes, Colbert covers sell quite well, according to data from the Audit Bureau of Circulations. He boosted Wired's newsstand sales by 38 percent, Esquire's by 17 percent, Newsweek's by 16 percent (according to unaudited numbers), and GQ's by 6 percent. New York's sales of its Colbert-fronted issue were about average, and Rolling Stone has not yet reported the numbers for its August 14, 2009 issue, with Colbert on the cover. (A note on methodology: for weekly magazines, I compared sales of the Colbert issue to average sales for the entire year; for monthlies, whose sales are subject to more seasonal variation, I used the issue from that same month the previous year as a basis for comparison.)
The best part of this story is the likelihood that Stephen Colbert will discuss his newly found status as magazine savior on his show. And while his take will likely be smart, satirical, and mocking of the conventions of the publishing world, the magazine business really needs the publicity.
Have a tip we should know? tips@mediaite.com