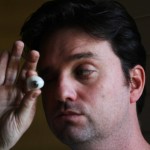 I have been going around saying I am a superhero. I am mostly being tongue-in-cheek, but when I become a bionic journalist/documentary maker it will give me a certain kind of crime-fighting ability. I have a got a working prototype and I am tantalizingly close to getting a robust field model of my camera eye working (anyone got twenty grand?). Once I do, I will have a camera that looks just like an eye. I will be able to go places and do things other camerapersons can't.
I'm not the first guy to have an accident and replace my body bits with villain-busting technology. Look at Ironman, with his super-duper artificial heart that powers his battle armour. Sure, he's a little further ahead than I am but the fact remains that I have become more than I was before. "Augmented", we post-humans like to say.
Joking around about how I can fight evil at a journalism conference I was speaking at, a high-up news executive actually took me very seriously and asked me if I would like to do some secret eye shooting in a war zone. My smirk disappeared as I imagined dodging bullets and actually putting my life in danger instead of being Irony-Man.
"A lot of my guys are targets with their big cameras," he said. "You could get in there more discreetly and film some compelling eye contact kind of stuff."
"Yes," I said taking his card, "I could get in there."
I'm considering it.
It got me thinking about how journalists really can be superheroes. A journalist's super-power is an ability to spread information. But just like Spider-Man always says, "With great power comes great responsibility."
Regurgitating a government press release, like oh, let's say, that Iraq has weapons of mass destruction would not be a good example of this. This is more like being a super villain. Or a misguided dumb superhero.
A journalist can wield their laptop or camera like a super ray blaster for truth, eradicating misinformation everywhere. Think of Bob Woodward and Carl Bernstein when they brought down Nixon — a formidable villain to be sure.
And then there are those journalists who risk their lives to bring us impartial news from war zones or countries who may not agree with their reporting.
One such superhero is Canadian-Iranian journalist and documentary-maker Maziar Bahari. He was arrested June 21st during the disputed election in Iran when he was on assignment for Newsweek. He continues to be held with little contact with the outside world. Here is a definitive account by Newsweek calling for his release.
Alas, it's not looking good:
His situation is serious. Iranian authorities do not appear to have formally charged him, but they allege that he has colluded with foreign powers to foment an uprising.

An official Iranian news agency said Mr. Bahari, who was arrested on June 21, gave a news conference at which he purportedly said: "The activities of Western journalists in news gathering and spying and gathering intelligence are undeniable. … I, too, as a journalist and a member of this great Western capitalism machine, either blindly or on purpose, participated in projecting doubts and promoting a … revolution." There is no independent confirmation that he made these statements, or that if he did make them, he did so without having been coerced.
Mazar is by all accounts a valuable cultural translator who has brought an Iranian point of view to Western audiences. In other words he's a guy who makes an effort to really get at the truth and improve international understanding.
If you want to help you can send an email to the Canadian Minister of Foreign Affairs. This kind of pressure helps convince the Canadian government to up the diplomatic efforts to secure his release. (It doesn't matter if you aren't Canadian). Lawrence Cannon, Minister of Foreign Affairs can be reached via: [email protected] with the subject line: "Maziar Bahari".
I'm not sure if I will try to become a real superhero, like Maziar, but I can at least use this little bit of column space to try to help him with the limited power I have.
In the meantime, I'll have to think carefully about how I shall use my camera eye. It is potentially a strange responsibility.
Rob Spence is a director and producer in Toronto, Canada whose work has appeared on Discovery, Vision, Space TV and the CBC (Canadian Broadcast Corporation), for which he made the controversial documentary, Let's All Hate Toronto. Currently, he is in development on a documentary about how video and humanity intersect escpecially with regards to surveillance.  That's where the whole cyborg thing comes into it. Learn more about the Eyeborg here.
Have a tip we should know? [email protected]