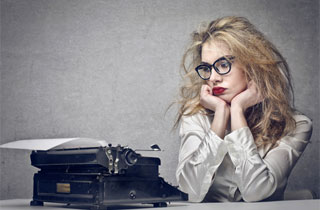 Every year, CareerCast releases their list of America's best and worst jobs, and every year, traditional newspaper reporters get the shaft. It's grown worse as traditional print media dies off: last year, newspaper reporters ended up at the very bottom of the website's Top 200 Jobs list.

This year, their positions improved: it's now only the second worst job! (Yaaaay.)
Lodged right in between "Lumberjack" (No. 200) and "Enlisted Military Personnel" (No. 198), newspaper reporters make, on average, $37,090 a year, and also report absurdly high levels of stress, terrible work environments, and poor hiring outlooks. Moreover, by 2022, the industry's expected to experience -13% growth. Yes, that actually means it's contracting, and nobody's gonna hire newspaper reporters in the distant future. (Maybe you, young writer, should probably consider going into dishwashing — it's only ranked 124th on the list.)
Aw, gee, reporters, we didn't mean to depress you. Wanna read about how much it sucks to be a lumberjack? Here's the firsthand account of Eric Johnson, the editor of National Logger (which means he's both a reporter and a lumberjack):
The lumberjack's job is increasingly modernized through technology. Johnson says mechanization has made for a safer work environment, but also streamlined the field and eliminated jobs. "If a guy owns the machinery, he owns the business," he explains. And those who own the businesses need fewer lumberjacks.

"You incur a lot more expenses if you're hiring people," Johnson explains. "Companies are taking a crew that was maybe 25 people and now is down to three…" Despite improved safety through technology, Johnson says logging "is still a very dangerous business."
Which means that Monty Python is a lie.
[h/t Jim Romenesko]
[Image via Shutterstock]
—
>> Follow Tina Nguyen (@Tina_Nguyen) on Twitter
Have a tip we should know? [email protected]