Ted Nugent Declares Newspaper 'Hates Freedom' While Being Paid $50k by That Paper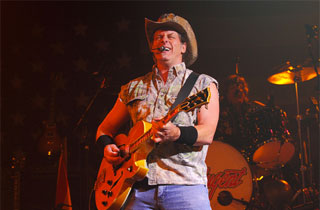 A few months ago, Ted Nugent was announced as the guest of honor at the Toledo Blade's annual Northwest Ohio Rib-Off, a rather uncontroversial barbecue event and concert. Problem was, nobody at the Toledo Blade knew that Nugent had a rather controversial reputation — at least, not until people began protesting the paper's decision to invite a person they considered racist, particularly in regards to Barack Obama.
"Although I will not support inviting him again, in my judgment the very high standard for uninviting him was not met in this case," Allan Block, the chairman of the paper's parent company, explained, adding that in his opinion, Nugent wasn't a racist: "He seems to have animus for many different groups equally."
So the concert went through, and you'd think that, considering how many concerts canceled Ted Nugent appearances after his infamous "subhuman mongrel" comments, he'd have a little respect for a paper that allowed him to perform, much less a paper that was paying him $50,000 to perform. But as the Toledo Blade reports:
"The Toledo Blade hates you," Nugent told the crowd. "They hate your guts …; They hate me. They hate freedom. So as long as you know the Toledo Blade hates you, you're a good American."

The Blade contracted with and paid Nugent to perform at the event.
"I have to pay him that even if it rains," the Blade's sales director Mike Mori explained to Media Matters. "I wish the guy would just not say the things he does, he brings a big audience, he's from Michigan, he packs the place. If everyone hated him, nobody would come. He does have a following, it's a tough situation. I try to have a diverse type of a line-up."
As to whether Nugent could come back: "I will probably think long and hard about inviting him next year."
[h/t Jim Romenesko]
[Image via Doug James / Shutterstock.com]
—
>> Follow Tina Nguyen (@Tina_Nguyen) on Twitter
Have a tip we should know? tips@mediaite.com