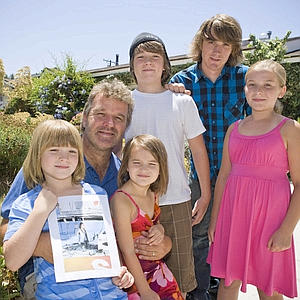 Does this scenario sound frighteningly familiar? Teen sailor Abby Sunderland's dramatic attempt at sailing around the world apparently was not enough drama for this family. The New York Post is reporting the sailor's dad, Laurence Sunderland, had signed a contract for a reality show.
The show, "Adventures in Sunderland," had been "shopped around" quite a bit. In terms of subject matter, Laurence Sunderland said, "The show might be about family, it might be about Abigail's trip."
According to the Post, he said "that he's broke" and signed the contract for the show weeks after his teenage daughter "set off on her doomed and dangerous solo sail."
Sunderland said he wanted the show to have a positive, encouraging theme:
"We thought it might be a good idea if it was encouraging to kids to get out there and do things," he said. Sunderland said he didn't initially get many bites.

But Magnetic Entertainment of Studio City, Calif., is already promoting "Adventures in Sunderland" and "Abby's Journey," a documentary, on its Web site.

The studio didn't reply to e-mails and calls for comment yesterday.
The Sunderlands' reality show gig is reminiscent of another recent story: Falcon Heene (more affectionately known as "Balloon Boy"). Yet the teen's father insists the sailing trip was not a publicity stunt:
"The wheels in motion for this trip had actually started when Abigail was 13 years old," he added.

Sunderland also defended his decision to let his daughter take the risky journey.

"I love my daughter dearly," he said. "I love the passion of sailing dearly, and this was about Abigail following her dream. She followed the criteria that I had set out, and met all the requirements to embark on this trip."
Meanwhile, Abby Sunderland is doing what every subject of a public disaster does: considering writing a book.
Have a tip we should know? tips@mediaite.com