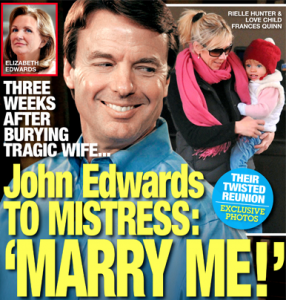 News outlets are abuzz over a report that John Edwards has proposed to Rielle Hunter, his former mistress with whom he had a child, just a few weeks after the death of his wife, Elizabeth. The interesting thing is that the initial report came from the National Enquirer. The tabloid famously was the first to break the story of Edwards' affair and child, so the media has seemingly collectively decided that Enquirer stories of Edwards and Hunter are the only ones they'll "deign" to cover. Update: Gossip Cop reports that it's not true!
(UPDATE BELOW)
The Enquirer article isn't exactly objective journalism:
"During the festive holiday getaway, the callous ex-senator introduced his children to Rielle Hunter – who had destroyed his 33-year marriage and gave birth to his love child, Frances Quinn, now 2 years old.

What's more, The ENQUIRER learned that homewrecker Rielle made a shocking decision – to direct John's young children to 'Call me Mommy!'"
Still, they were right that last time and that was huge enough that outlets like the Washington Post, the Chicago Tribune, and the New York Post have all ventured into the muddy waters. It's a tough choice to make. If the Enquirer's sources close to Edwards come through again, then this will be a huge story. If not, then everyone who wrote it up will get burned.
Only time will tell how this story ends up.
Update: Gossip Cop claims that the rumors are not true:
The National Enquirer's cover story this week claimed that just three weeks after Elizabeth Edwards passed away, the former presidential candidate proposed to Hunter.

The report quickly spread to numerous outlets.

But today a spokesperson for Edwards informs the Daily Beast, "I can tell you that it's not true."

"I have no idea where it's coming from. I wouldn't begin to speculate about the Enquirer's sources," says the spokesperson.
Below is a video report on the story and speculation from CBS3 in Philadelphia:
Have a tip we should know? tips@mediaite.com