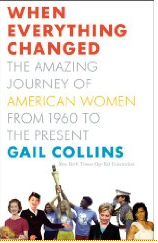 Last summer I randomly picked up NYT columnist Gail Collins' book America's Women: 400 Years of Dolls, Drudges, Helpmates, and Heroines and immediately became engrossed. Friends (and seat companions) will attest to the fact that I talked about it non-stop for the better part of that summer.
Women's roles had become a hot topic again thanks mostly to Hillary Clinton's presidential run, and later Sarah Palin's vice presidential one. Collin's enormously entertaining survey of women's lives over the past 400 years of American life seemed to strangely fit into to what was going on on the national political and cultural stage last year; a sort of primer to how we got from there to here. Here's what I wrote at the time:
With her usual, often revealing wit, Collins has created a hard-to-put-down read that will leave you with not only a deep, and sometimes jarring, appreciation of the often terrible struggles women faced for most of this country's history but also enormously grateful you were born late enough to miss most of it. Needless to say, just like her NYT op-ed columns, it's also great fun.
Cut to a year later and Gail Collins has followed up with the soon-to-be published When Everything Changed: The Amazing Journey Of American Women From 1960 To The Present, an advanced copy of which landed on my desk last week.
This volume begins in 1960, where the last left off and also the year Collins taps as the moment when everything changed. Or began to anyway, since it's painfully clear from the outset that not much had changed. Says Collins:
In 1960, where our story begins, although computers were still pretty much the stuff of science fiction, almost all other things that make modern life modern — jet travel, television, nuclear terror — had arrived. But when it came to women, the age-old convictions were still intact. Everything from America's legal system to its television programs reinforced the perception that women were, in almost every way, the weaker sex.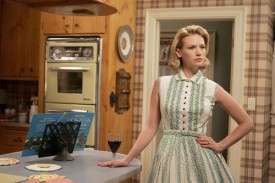 It is this point exactly that Collins spends the first hundred pages or so (which is as far in as I have gotten) illustrating. The scenarios she describes will be slightly less shocking to regular viewers of the television show Mad Men. In fact, the opening chapters of the book often feels like a companion reading piece to the show. In particular the lives of Betty Draper and Peggy Olson.
One of the genius aspects to both this book, as well as 400 Years, is that they are very quotable! It's like a 400 page book of really well-written 500 word blog posts that you will want to copy and paste and send to people. Which is exactly what I intend to turn this reading experience in to over the next week or so…a series of quotable blog posts. Here's a taste of what you can expect.
By 1960 television was big business, and if women were around at all, they were in the kitchen, where they decorously stirred a single pot on the stove while their husbands and children dominated the action. (In 1960 the nominees for the Emmy for best comedy series were The Bob Cummings Show, The Danny Thomas Show, The Jack Benny Show, The Red Skelton Show, The Phil Silvers Show, and Father Knows Best.)
Have a tip we should know? tips@mediaite.com