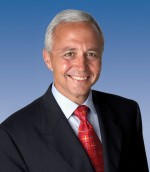 There is no question that the magazine publishing nerve center is located in midtown Manhattan. As such, there is a unique sort of provinciality that magazine insiders have — a conventional wisdom that defines the power players, up-and-comers and has-beens. So it will likely come as a shock to the titans of print that, according to the Power Grid,  the second most powerful man in the business works in Des Moines, Iowa: Steve Lacy.
As President and CEO of Meredith Corporation, Steve Lacy is second only to Time Inc.'s Ann Moore ranked in the Magazine Titan category of the Power Grid.  Determined by estimated overall circulation, total employees,  online buzz of proper name,  and online buzz of media affiliation, Lacy outranks other stalwarts of print including Conde Nast's Chuck Townsend, Hearst's Cathie Black and Rodale's Steve Murphy.
So what makes Lacy so powerful? A publishing empire that includes powerhouse titles like Better Homes and Garden, Family Circle, and More. The estimated total circulation for all Meredith titles ranks second only to Time Inc.
Cynics might claim that by targeting an older demographic, Meredith's circulation has largely been unaffected by the Internet revolution.  And in fact, the online traffic to the Meredith websites pales in comparison to the overall readership – in part due to really large print circulation numbers.
However, the Meredith readership also appears to be remarkably loyal and relatively wealthy, which creates an interesting paradox for ad sales. Marketers are typically eager to present their messages to these sort of eyeballs – but they also want to appeal to a younger, sexier set – definitely not the typical Meredith reader.
Nonetheless, while the Meredith powerhouse continues to grow, its digital strategy presents both a risk and an opportunity. At some point their readership will go online — and what will they find? Best to enjoy the salad days while you are in them, for you never know what the future brings.
Have a tip we should know? tips@mediaite.com