The New York Post Keeps An Eye On The Daily Caller As It Peeks Into The New Yorker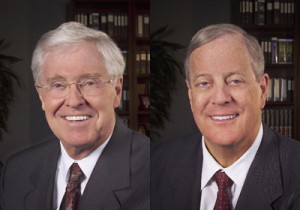 Keith Kelly is reporting that Tucker Carlson and Neil Patel's Daily Caller website recently attempted to unearth a scandal concerning The New Yorker's Jane Mayer. Daily Caller writer Jonathan Strong aimed to prove that Mayer had lifted material from several sources for "Covert Operations," her takedown of brothers Charles Koch and David Koch (both pictured) – the conservative billionaires behind Kansas-based private energy conglomerate Koch Industries. In the end, he found nothing proving any questionable reporting on Mayer's part, prompting the question… What led Strong and the Daily Caller to believe there was a story to be found in the first place?
Carlson told the New York Post that he did not know where or from whom Strong's original tip came, only that, after conducting extensive research into the matter, Strong "did not have enough" for his story.
There is much to be read between the lines of the Post's story. For example, Kelly's article makes sure to mention that Carlson, a well-known conservative pundit, is a senior fellow at the Cato Institute – which, Kelly writes, holds "strong ties" to the Koch brothers, despite an institute spokesperson's insistence that those ties have "diminished" over time, with co-founder Charles Koch having dropped funding for the project last year.
Furthermore, the Post notes that the brothers Koch had reason to be upset by Mayer's piece, as it unearthed several unsavory tidbits about the wealthy duo's disagreements and personal lives and…. this:
Aside from family feuds and dirty laundry, it detailed how the brothers, who control Koch Industries — the second-largest privately held company in America, with sales estimated at $100 billion — were also backers of a wide network of conservative think tanks and groups that helped spawn the Tea Party revolution as part of long-running campaign to push the US to the right.
Have a tip we should know? tips@mediaite.com