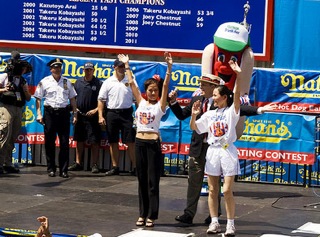 It's that time of the year again– time for the world's greatest eaters to celebrate the America's independence from England by chowing down as many hot dogs as possible within an insanely short amount of time. And this year, the famed Nathan's Hot Dog Eating Contest in Coney Island will have a brand-new feature– a woman's division. The New York Post's Jeremy Olshan took the crew of competitive eaters out to eat at the Plaza, and found much relief in that they only had to face each other, and desperate hunger at not having access to a buffet.
Before this year, the Nathan's contest was open to any and all contenders, which the women who sat with Olshan– the greats of competitive eating, including Juliet Lee, LaRelle Marie Mele, and "Black Widow" Sonya Thomas— argued was unfair to their slight frames. Not only to spectators now get two contests, but the women don't have to compete with the larger frames and more flexible jaws of their male counterparts. Lee told Olshan she was "scared" of eating with the same speed as the incumbent champion Joey Chestnut, who can hulk down entire hot dogs with little to no chewing.
Then there's this delightful exchange among the women, who find dining at non-buffet restaurants quaint:
In preparation for the internationally televised pigout, The Post took four of the top female competitors to high tea at the Plaza. It wasn't quite their scene.
"I could eat all of this in two minutes," Sonya "The Black Widow" Thomas, said surveying the platters of scones, cucumber sandwiches, and pastries. "Maybe one minute."

"Yeah, I much prefer buffets to regular restaurants," LaRelle Marie Mele, 47, who'll be at the table for the first time Monday. "I never get full at a sit-down place."

"Me, too," agreed veteran Juliet Lee, 45, who holds the world record for cranberry-sauce eating. "Normally, I go to Chinese buffets."
The ladies of competitive eating will be battling for one of the most prestigious prizes in the sport on Monday in true Fourth of July tradition, along with their male counterparts. Full list of contestants (and odds) here.
Have a tip we should know? tips@mediaite.com