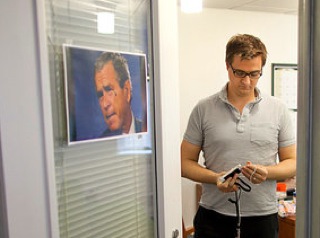 Chris Hayes is a bona fide cable star. The New York Times has decreed it now, so it must be true. And try as they might to make Hayes sound about as likeable as the Brant Brothers ("Generation Y's wonk prince of the morning political talk-show circuit," really?), their piece gets at the core of why, while much of the rest of cable news flounders, Hayes has developed an ever-growing following: personalities make shows, and Hayes is true to self in a way that feels all too rebellious in an era of Tea Party-fueled anti-intellectualism.

RELATED: MSNBC Host Chris Hayes Likes The National Anthem Just Fine
The profile opens with the news that a rock star of Ted Leo's prominence made an Up joke at a concert recently, a demographic marker meant to give you an idea of who is watching the show. The Times also goes out of its way to cite "Lizz Winstead, a creator of "The Daily Show," and members of Le Tigre, the too-cool electro-pop band… Cher and Chad Ochocinco" as viewers, all of which makes the show sound about as approachable as a Barack Obama fundraiser. That Cher might've caught an episode here or there misses the bigger point– though thankfully, the Times provides the statistics to make up for that:
While MSNBC's overall ratings dipped in May along with those of other news channels, Mr. Hayes's program was one of the few to surge, rising about 15 percent in total viewers over MSNBC's programming in the time slot from the previous year. Since Dec. 26, it has been No. 1 on average in its Sunday time slot on cable news channels among viewers ages 18 to 34, according to Nielsen figures provided by the network. Despite much of the country being in bed when it is on, "Up" has occasionally flirted with the ratings of prime-time programs like "The Rachel Maddow Show" (hosted by Mr. Hayes's mentor) among those 18-to-34 viewers.
Chris Hayes' formula, which often means spending an hour talking about the intricacies of pink slime, is working, and it is working at a rate that makes it clear the people watching are a larger population than the sort that would tune in because they know Lizz Winstead does, too. Hayes, "chirpy voice" and all, can get away with hosting a progressive-leaning show you need a dictionary to follow because it presents complex issues and personalities in a familiar, simple format. The Times argues the opposite, and misses the point.
Up is not a "rebuke to traditional cable shout-fests like CNN's late Crossfire"– it is a return to Crossfire form after cable news producers realized that the single host rant format that begat Campbell Brown and Keith Olbermann gets very boring, very quickly. And if Up works in a way that Crossfire did not, credits goes to the chemistry Hayes has with his guests, not to the "dorm-room bull session" aesthetic. The success of panel shows hinges almost exclusively on finding the right combination of candid viewpoints and dynamics around the table, something Hayes has mastered in his few months on air.
RELATED: Up-rage 2: Electric Boogaloo – Chris Hayes Guest Jeremy Scahill Calls President Obama A Murderer

Hayes himself seems to get this far more than the Times does, citing the first rule of Up to be, essentially, for forget that Up is a TV show. "The first and foremost important rule of the show: we're not on television — no talking points, no sound bites… I like the fact that it's dialogic, small-d 'democratic," he argues. Even in explaining his most egregious on-air gaffes, he sees them as a necessary evil in the genre he works: "I talk off-script for four hours a week, about very sensitive, complex matters. That comes with the territory."
The rest of the profile is quite entertaining– Jürgen Habermas gets a shout-out– and Hayes (and Rachel Maddow!) does a great job of explaining the appeal of the show, whether discussing it directly or giving away what his big career dream was at age 14. You can read the full Times profile here.
This is an opinion piece. The views expressed in this article are those of just the author.