The NYT Style Section Profiles 'Career Girl' Turned 'Golden' Anchor Megyn Kelly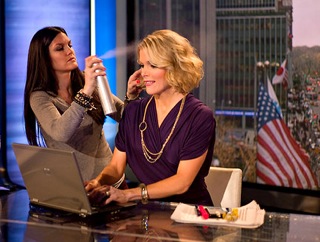 "Widely viewed as the most golden of Roger Ailes's protégées" is how the New York Times described daytime Fox News anchor Megyn Kelly in a Style Section profile this weekend, though Kelly herself prefers to remain a "small-town girl" with a passion for her job and her family, two facets of her life she was advised she would have to choose between in the journalism industry. Needless to say, that advice went wisely unheeded.
RELATED: Herman Cain Campaign Manager Struggles With Megyn Kelly's Most Basic Questions
"It was terrible advice," she told the New York Times, which profiled her as the vanguard of a generation of female journalists that made the same choice– not having to choose:
Ms. Kelly, 41, is part of a new generation of TV anchors — Erica Hill of "The Early Show" on CBS, Mika Brzezinski of MSNBC's "Morning Joe" and Soledad O'Brien, formerly of "American Morning" on CNN — who have juggled their careers and family life full-throttle in front of millions of viewers in a way that Barbara Walters and Diane Sawyer notably did not. Rather than hide their pregnancies, they flaunt them; rather than cover up their off-hours role as mothers, they turn it into part of their on-air persona.
The Times also takes a look into her private life and her "apolitical" (but sometimes vaguely conservative, says one former law firm colleague) attitude on the air, which notably broke earlier this year as she took down guest Mike Gallagher when he suggested maternity leave was a "racket," only a few days after her return from maternity leave. While she admits to being "nervous" only on very big stages, like moderating presidential debates, she notes cheerily at the end of the piece that the risk of shifting gears from attorney to journalist was a return to happiness for her. "Before I did this," she explains, "I had everything going for me on paper. A great law firm job, a doctor husband — this middle-class girl had arrived. But it was not fun."
You can read the full Kelly profile at the New York Times here.
Have a tip we should know? [email protected]