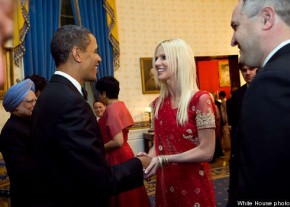 Looking back over the last few days at the events surrounding Tareq and Michaele Salahi — the Virginian couple who crashed last week's White House state dinner — it's hard not to wonder whether we haven't just witnessed the invention of some brand new type of reality game show: extreme reality. Like extreme sports but with a reality game show twist. And boy did the Salahi's take it to the extreme (really, is there anything more extreme than infiltrating the White House and meeting President Obama?) Of course, in this case (much like its "extreme" Balloon Boy predecessor) who needs an actual contract with an actual television company (the Salahi's were apparently merely in talks with Bravo) when the cable newsers are so willing to take the bait and run with it.
Unlike Balloon Boy (which was technically fake extreme reality, I suppose) — all signs point to the Salahis wanting to be caught. After their escapade to the White House, with cameras in tow no less, they posted pictures of themselves with high level politicos on their Facebook — though the White House was actually responsible for making available the money shot (as it were). Now the couple is shopping their story around to the highest bidder (maybe). This is not a couple that appears to be terribly caught off guard by the hoopla surrounding their presidential partying.
Whether it works out in their favor remains to be seen — we all know how Balloon Boy ended up. The Secret Service interviewed the couple (for free we assume) over the weekend and says they still may press charges. Ed Rollins, appearing on CNN's State of the Union yesterday (video below), is understandably quie angry about the whole thing and thinks the couple should be charged for trespassing. He went so far as to suggest an entirely new reality show premise for them: "These people want a reality TV show, give them one. It's called 'Dealing With the Federal Prosecution System of the District of Columbia.'"
Former White House press secretary Dana Perino, appearing on "Fox News Sunday With Chris Wallace" thinks that with the White House holiday season about to kick into full swing, this is just the tip of the iceberg: "What will be a concern for, I think, the social office going forward is they have their busiest season coming up. It's the holiday season. They'll have a lot of people coming through." Or not. It's entirely possible the Salahi's have ruined Christmas for everyone. Just imagine the sort of background checks future guests are going to be required to undergo.
And with "as many as 1,000 reality participants on television at any given moment" one has to assume this is just the beginning of some sort of weird trend that will probably result in the President livestreaming events from an undisclosed location because no one will ever be allowed into the White House ever again.
Have a tip we should know? tips@mediaite.com