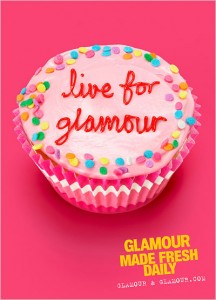 Continuing to attract the spotlight after the sensation the "girl on page 194" caused, Glamour magazine's Fashion Week launch of its new ad campaign is bright, cheerful, and optimistic. The New York Times calls the cupcake themed ads an attempt to reach out to media buyers and heighten their ad sales by "refresh[ing] their idea of the Glamour reader."
It seems more accurate to say though, that the ads reinforce more than a refreshed image of the Glamour reader. The magazine's 70 year run has always had a focus on the "average," albeit exceptional, "all-American girl." Out of those 70 years, the magazine has been holding an annual Top 10 College Women competition for 52. The contest attests to the ardent level of appreciation the beauty mag has always had for intelligent women, who are recognized for their "campus leadership, scholastic achievement, community involvement and unique, inspiring goals," and not their waist size.
The 10 winners, whose colleges ranged from University of Iowa to USC to West Point, were honored at a fancy awards luncheon at The Modern last week, where Ivanka Trump and Editor-In-Chief Cindi Leive spoke. Besides the ceremony, the girls are glorified in a detailed 5 page spread in the October issue.
Glamour has been dedicating this much space to real, exceptional women every year for half a century, which suggests that its new ad campaign isn't refreshing its readers' image, but rather maintaining its tradition of accessibility. The sprinkling of the cupcake ads around New York may add some refreshing color to the city, but Glamour's continued success and high readership has always been rooted in their their long-established tradition of providing an attainable space for the voices of real young women.
Have a tip we should know? tips@mediaite.com