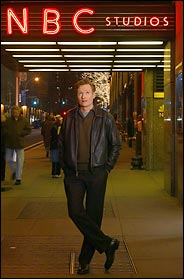 Remember 2004? Could it be that it was all so simple then? Or has time rewritten every line? Yes, yes and yes. Back then, it was very simple — Conan O'Brien was taking over the Tonight Show from Jay Leno in 2009. Changing of the guard. Passing of the torch. Handing down a treasure from generation to generation. Ah yes. It made all sorts of sense — then.
Fast forward to now. Now, it makes a different sort of sense. Then, the Tonight Show aired at 11:35 p.m. after local news that enjoyed a healthy lead in from various 10 p.m. dramas. There was no such thing as online video and Tivo was still what the kids were calling "newfangled." Now, networks are watching the cash drain from their bottom line in a splintering media universe and no longer have the time, patience or money to let a show "find its voice." Oh, and contracts feel…different 5 years later. But — remember then?
September 27, 2004
Conan O'Brien to Succeed Jay Leno in 2009, NBC Announces
By BILL CARTER

NBC announced today that Conan O'Brien will succeed Jay Leno as host of the "Tonight" show when Mr. Leno's contract expires in 2009, cutting off early efforts by competitors to steal away Mr. O'Brien.

Mr. O'Brien, the host of NBC's "Late Night" for more than 11 years, signed a new contract early today at NBC's headquarters in Rockefeller Center. The deal guarantees Mr. O'Brien will serve at least two years as host of "Tonight," still the leading show in late-night television, when he takes over from Mr. Leno at a yet-to-be-determined date in 2009.

NBC made the news official in a press release this afternoon, after it was announced to the staffs of both shows early in the morning. Mr. Leno planned to tell his own television audience tonight on his program, already billed as a special edition because it is the official 50th anniversary of the first broadcast of "Tonight," with Steve Allen as host. Mr. O'Brien will become the fifth host in the show's history.

Because of a desire to allow Mr. Leno the first public comment on the decision, the hosts and NBC executives declined on-the-record interviews today. But several people involved in the negotiations said they had been conducted in an amicable fashion, even though Mr. O'Brien has been surprised and disappointed earlier this year when NBC announced it had signed Mr Leno to a five-year extension.

Mr. O'Brien, with his own contract set to expire in January of 2006, had made it plain in interviews that his goal was to be the host of an 11:35 p.m. late-night show soon.

NBC executives said today that Mr. Leno was instrumental in making the new arrangement, having agreed when he signed his latest deal in March that he would be willing to step aside for Mr. O'Brien in 2009. He will be 59 at that point, while Mr. O'Brien will be 46.

In a statement, Mr. Leno said: "When I signed my new contract, I felt that the timing was right to plan for my successor, and there is no one more qualified than Conan. Plus, I promised my wife Mavis I would take her out for dinner before I turned 60."

The deal to secure Mr. O'Brien and to set a date for the end of Mr. Leno's tenure was put in place by Jeff Zucker, the president of the NBC Universal Television Group. Mr. Zucker had conducted complicated negotiations over a period of months with representatives of the two stars, trying to work out a plan that would keep Mr. O'Brien at NBC. Mr. O'Brien was expected to be heavily sought after by other networks had NBC not managed to re-sign him. Mr. O'Brien's representatives had already received some preliminary indications of interest from at least two other television companies.

One of the main inspirations for concluding the deal this early was NBC's conviction that it could not go through the painful and at times embarrassing process that attended the last decision to turn over the host job on "Tonight." In 1991, after Johnny Carson announced he was stepping down, NBC first handed the job to Mr. Leno, then a substitute host for the program. And then, as the contract of its other late-night star, David Letterman, was expiring, the network offered to give him the show at the end of Mr. Leno's first contract.

Mr. Letterman saw that as a ploy to keep him inside NBC and was not convinced that NBC would have gone through with that commitment, so he declined and joined CBS.

Some of the people who were involved in how that scenario played out wondered today about whether NBC might be employing a similar tactic, offering Mr. O'Brien what he most wanted, the "Tonight" show, in order to secure his services and keep him away from another network, while essentially postponing a real decision on Mr. Leno's future for five years.

But the people involved in the negotiations said that Mr. O'Brien's representatives had been completely satisfied that NBC's commitment was real. They said that the contract Mr. O'Brien signed today included a multimillion dollar financial penalty if he did not get the "Tonight" show, a penalty payment so substantial that the network surely had no intention of ever having to pay it, according to people involved in the deal.

For NBC, the "Tonight" show remains one of its biggest moneymakers. After Mr. Leno became the host in 1992, CBS lured away Mr. Letterman, and his competing show on CBS for a time beat Mr. Leno's in the ratings.

But Mr. Leno zoomed past Mr. Letterman in 1995 and has dominated the late-night ratings ever since.

Emphasis added. Jay Leno will be 60 in April.
Have a tip we should know? tips@mediaite.com