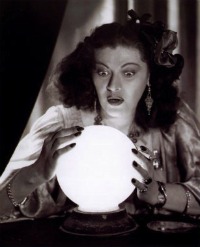 The Los Angeles Times' Company Town blog has, as it does at the start of every new year, turned to its various sources to come up with a few predictions about what the near future might have in store for several big names in media. And quite a few seem like good bets! Let's take a look at a few of their predictions before weighing in with our own thoughts, shall we?
Google may have already begun to claim its stake in the TV industry with the creation of GoogleTV (much to the chagrin of several networks, it turned out), but Apple will likely try and succeed where Google is losing steam with its very own iTunes-powered Apple TV.
We can totally see this happening. With American audiences now watching more than TV than ever before, it'd be foolish of Apple not to get its own piece of the pie. Plus, it seems like a natural extension for the brand – and a chance for it to offer new and innovative ways of consuming, interacting with and customizing television content. We can only hope that, in a nod to the Cult of Apple, the company chooses to call its creation the iV.
American Idol will see its ratings fall when it replaces acerbic Brit Simon Cowell with Jennifer Lopez's hair extensions and whatever's left of Steven Tyler. Meanwhile, Cowell's new program, The X Factor, will bring in huge numbers in its bid to replicate the success it enjoyed in Britain over on our side of the pond.
Our take? A trend can only last so long, and with so many copycat talent shows sprouting up to utterly saturate the market, viewers will initially tune in to both shows out of curiosity, then grow bored as they find themselves watching a very staid, predictable formula play itself out – especially since the contestants, with few exceptions, seem consistently, well. Bland. But, given the fact that recycling Star Search turned out so well, maybe Cowell & Co. can work the same magic for a new, revamped version of American Bandstand. Hosted by Willows Smith and Palin, of course.
Company Blog sources predict that Katie Couric will stick with her CBS Evening News gig after mulling over other, more lucrative opportunities.
Stick with us here: We think that, with her outspoken commitment to promoting colon health, Couric would be a perfect fit to host a talk show heavy on health and wellness issues on Oprah Winfrey's OWN network. True, that would make Couric one of the few (if not the only) talent on the network not "discovered" by Oprah, but her approachability and the trust she inspires in American viewers would make her a good fit for Oprah's inspirational, motivational venture. Is it likely to happen? Of course not. But if it does, you'll have to give us credit for totally calling it first.
Experts believe that ABC News will not merge with Bloomberg, nor will CBS News enter into a relationship with CNN, both because of issues with union contracts and the kind of management struggles that nearly derailed the recent NewsBeast union.
We think Fox News Channel and MSNBC will merge to form a media giant offering opinion news, headline stories, a reality series that pits former U.S. Senators against enemy insurgents… on the ice rink, an inspirational series about rescued bunnies, "recipes Jesus might have made," and American Gladiators reruns. Its slogan will be "Lean, But Keep Your Balance."
You heard it here first.
Have a tip we should know? tips@mediaite.com