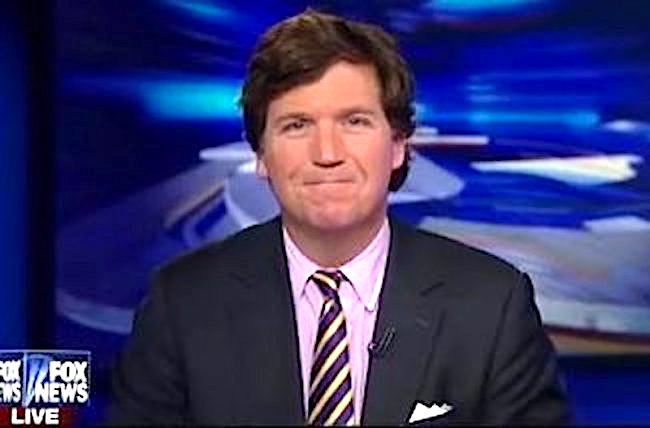 A massive bidding war is underway for Tucker Carlson's upcoming book which, according to The Hollywood Reporter could fetch as high as eight figures
The Fox News host, who took over Bill O'Reilly's 8 p.m. slot following his ouster from the network amidst a sexual harassment scandal, has been shopping around his book proposal to about a dozen enthusiastic publishers.
THR reports that he could get as much as $15 million for the book although others in the industry tell Mediaite that number is significantly inflated.
BuzzFeed reported earlier this week that Carlson was shopping around a proposal, taking particular note of how "for book publishers, Carlson has fast become a pundit in relatively high demand."
Carlson debuted in the Factor's former time slot Monday with strong ratings, and it looks like his brand of preppy conservatism and combative interviews have widespread appeal amongst Fox News viewers.
If Carlson's latest ratings are any sign that he'll be able to match O'Reilly's prodigious book sales, it's no surprise publishers are salivating at the chance to win the bidding war.
The advance could be the largest for a television personality since Megyn Kelly reportedly nabbed between 6 million and 10 million for her 2016 memoir Settle For More.
Carlson's book will be "current events-oriented, provocative and funny," per THR. "The host's humor and wit are considered one of the pitch's strongest selling points."
Back in 2003––when he was still wearing the bow tie––Carlson released a book titled Politicians, Partisans, and Parasites: My Adventures in Cable News.
Have a tip we should know? tips@mediaite.com
Aidan McLaughlin - Editor in Chief