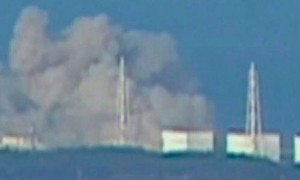 Instability from the Japanese earthquake and tsunami continues to grow today, with the third explosion in an as many days at the Fukushima Nuclear plant. In the past two days there have been explosions in reactors number 1 and 3, and today reactor number 2 suffered an explosion. With growing concerns over the information being shared by a tight-lipped Japanese nuclear agency that is overseeing the clean-up and an expanding evacuation zone keeping media at a safe distance, it is hard to discern the real story coming from the troubled region of Japan.
Writing for ABCNews.com, David Muir, Jessica Hopper and Dean Schabner report:
A senior U.S. official said the blast — the third in three days at the plant since a powerful earthquake struck Japan on Friday — may be more dangerous than the others.

While the two previous explosions — at Fukushima Daiichi reactors No. 1 and 3 — were hydrogen blasts caused by a buildup of steam in the reactor units, the new blast at reactor No. 2 has officials unsure of the cause.

In addition, the fuel rods in the reactor were melting, the official said, though the situation was not described as a meltdown.

Half of the fuel rods were exposed, not immersed in water, and the suppression pool, which holds the water used to keep the rods cool, seemed to be damaged, according to Tokyo Electric Co., which runs the plant, and government officials.
ABC News' Diane Sawyer reported on the danger presented by the Fukushima nuclear instability

Have a tip we should know? tips@mediaite.com