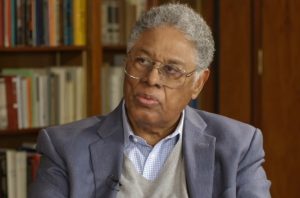 Thomas Sowell, a columnist, author, and thought leader for over four decades, announced his retirement in his syndicated column Tuesday.
"Even the best things come to an end," Sowell wrote. "After enjoying a quarter of a century of writing this column for Creators Syndicate, I have decided to stop. Age 86 is well past the usual retirement age, so the question is not why I am quitting, but why I kept at it so long."
"During a stay in Yosemite National Park last May, taking photos with a couple of my buddies, there were four consecutive days without seeing a newspaper or a television news program — and it felt wonderful. With the political news being so awful this year, it felt especially wonderful," he continued. "This made me decide to spend less time following politics and more time on my photography…"
Sowell has worked for the Hoover Institute since 1980, after teaching economics at Cornell University and UCLA. He has written over thirty books, exploring topics like race, economic liberty, and affirmative action from a conservative and libertarian perspective. In 2002, he was awarded the National Humanities Medal.
In his final column, he contemplated the enormous progress he had seen in his community since his childhood, but also the steps backwards. "Nothing so brought home to me the social degeneration in black ghettoes like a visit to a Harlem high school some years ago," he recalled. "When I looked out the window at the park across the street, I mentioned that, as a child, I used to walk my dog in that park. Looks of horror came over the students' faces, at the thought of a kid going into the hell hole which that park had become in their time."
"We cannot return to the past, even if we wanted to, but let us hope that we can learn something from the past to make for a better present and future," Sowell signed off. "Goodbye and good luck to all."
[Image via screengrab]
—
>>Follow Alex Griswold (@HashtagGriswold) on Twitter
Have a tip we should know? tips@mediaite.com