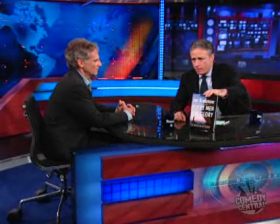 The big news to come out of Meet The Press this week has been author Jon Krakauer's assertion that General Stanley McChrystal, commander of the U.S. forces in Afghanistan, was implicated in the cover-up about the death of Pat Tillman, the football-star-turned-Army Ranger who was killed in Afghanistan in 2004, ostensibly in an enemy attack but later revealed to have been killed by friendly fire. The Tillman story is tragic enough without the added layer of deception: The Bush Administration knew he'd been killed by friendly fire, yet lionized him as a hero falling to the enemy in a PR blitz. The subsequent discovery of that cover-up was a terrible black eye for the last administration — and, it seems, continues to have echoes in this one.
Krakauer's book, Where Men Win Glory: The Odyssey of Pat Tillman, quotes Aeschylus on the first page: "In war, truth is the first casualty." This is what he alleges about the Tillman case — and he includes General McChrystal squarely in that assessment. But though that allegation only made big news this weekend on Meet The Press, Krakauer was equally emphatic a month ago on The Daily Show.
"That's what McChrystal needs to understand – this isn't gonna go away. he should come clean and tell what really happened."
"Twelve hours later the coverup begins," said Krakauer on September 30th, telling the story of Tillman's death, and putting it into context: Abu Graib is just breaking, the battle of Falluja just happened, Bush is up for re-election in six months — "they need something to divert the country's attention." Said Krakauer to Jon Stewart: "That was a very conscious choice…the emails prove it…they are immediately talking about how to exploit this for political gain."
What happened next is well-known: The military awarded the Silver Star to Tillman, in a citation that mentioned "devastating enemy fire" and which McChrystal as the presiding officer signed off on. The next day he sent a memo to top generals raising the possibility of friendly fire and urging them to downplay the "enemy fire" element. McChyrstal has said he did not intend to exploit Tillman's death and "certainly regrets" how it unfolded.
Krakauer doesn't agree, and said on the Daily Show: "Now this is awkward, because McChrystal is highly regarded. But he nevertheless was an instrumental – probably the point man – for this cover up." Krakauer spoke of the tenacity of the Tillman family in getting to the truth: "That's what McChrystal needs to understand – this isn't gonna go away. he should come clean and tell what really happened."
Krakauer was on over a month ago. It's surprising that this one flew under the radar, given how many sharp-eyed journalists, bloggers and media-watchers tune into the Daily Show, and regularly report on the news it makes. But it can and does happen, and happened here. What this says about Krakauer, McChrystal and his book is no different than what was picked up from Meet The Press. But what this says about so-called 'fake' news is, keep your eye on it. People with important things to say make a point of trying to say them on the Daily Show. So don't fall alseep before the interview.
Full Krakauer interview below; read an excerpt from Where Men Win Glory here.
Have a tip we should know? tips@mediaite.com