Tim Kaine Reportedly Said Bill Clinton Should Have Resigned Over Sex Scandals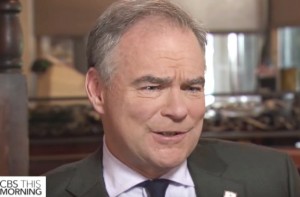 Hillary Clinton's vice presidential pick Tim Kaine once told a Virginia paper that he believed Hillary's husband Bill Clinton should have resigned during the Monica Lewinsky scandal.
At the time, the Virginia House of Delegates was rocked by allegations that a Republican politician had groped a female staffer. In a 2002 interview dug up by The Daily Beast, then-Lieutenant Governor Kaine told the Richmond Times-Dispatch that the Republican should resign, adding that he thought the same about Clinton years earlier:
"If the allegations are true, he should definitely resign," Kaine said, adding he held the same view about President Clinton during the Monica Lewinsky sex scandal.

"That is an intolerable way to treat women and it's not something that the state should be dragged through."
Kaine was also quoted making similar statements to the Associated Press, but the AP reported that Kaine said he had felt the same way about Clinton's conduct, not about whether he should resign. 'When I read it this morning, my reaction was the same I had when I read about the Clinton-Lewinsky affair: this is not appropriate conduct. It's beneath the dignity of the office,' he told them.
A Kaine spokeswoman tells the Daily Beast that the Senator is now focused on the future, not the past. "As the Associated Press reported at the time, Kaine characterized President Clinton's actions as 'not appropriate' conduct, but he had previously been on record criticizing the impeachment effort," she points out.
[Image via screengrab]
——
>>Follow Alex Griswold (@HashtagGriswold) on Twitter
Have a tip we should know? tips@mediaite.com