Time Editor Rick Stengel Justifies Controversial Afghanistan Cover to Katie Couric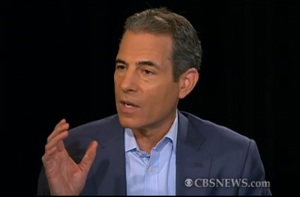 In Katie Couric's web series, @KatieCouric, the CBS anchor today interviewed TIME magazine Managing Editor Rick Stengel about his decision to run the controversial photo of a woman brutalized by the Taliban on its cover, with the headline "What Happens if We Leave Afghanistan."
Criticism of the cover has centered around the headline, which many feel is misleading and "emotionally manipulative", since it uses an emotionally powerful image to imply that the US has the power to stop such tragedies, and an obligation to stay in Afghanistan. The incident in question happened well after the US was in Afghanistan, they remind us, and besides, the US has repeatedly said they are not in Afghanistan for humanitarian reasons.
In her interview, Couric asks Stengel about the headline and what he really meant to convey:
KATIE COURIC:  It's interesting.  There's no question mark, "What happens if we leave Afghanistan."  What– was that intentional?

RICK STENGEL: Well, I– I never– I– I mean, I– you know, I– I think question– I think we answer questions.  I don't think we ask them.  And– you know, to me, this is a story about, again, no.  Is– is this what is going to happen to every woman in Afghanistan, you know, if the U.S. leaves?

But– but the story has a strong point of view saying, in fact, the role of women has been enhanced.  It has been modernized.  You know– you know– girls are going to school.  Women are in parliament.  Women are on television.  Their lives have changed in different parts of– of Afghanistan.

And– and so I wanted people to be confronted with the idea that there are consequences of us leaving.  Consequences on humanitarian grounds, consequences that people will understand and relate to particularly women can relate to.  So I wanted this to be a factor in the conversation going forward.  You can make the decision and say, "You know what, we can leave and– and– and women will be damaged."  But I wanted people be to cognizant of that.
Full video is embedded below:
Have a tip we should know? tips@mediaite.com