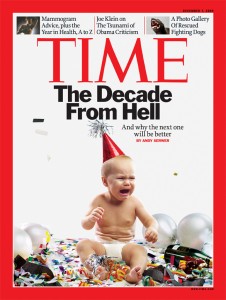 As writers scramble for their last-ditch efforts to name this decade, attention has landed on Time Magazine for their proposed name: "The Decade From Hell." But what's more interesting is to consider what Time suggested – and today's editors subsequently neglected to revisit – in their first issue of the decade.
Back on New Year's 2000, Time ran the following blurb attributed to several of the magazine's writers:
The new decade is upon us, and according to the readers of TIME, this decade will be called the Aughts…or the MMs, depending on your level of skepticism. Last year Notebook conducted an online poll to find out what name should be given the next decade. Of the Zips, Two Thousands, Zeros, Ohs, Double Ohs, 2Ks, MMs, Aughts or Singles, readers clearly put the Aughts ahead, until the last week of polling, when the MMs took the lead–so suddenly (and implausibly–the MMs?!) that it aroused suspicions of a Mars candy campaign. Despite hints of vote tampering, several advertising agencies agreed to create ads to sell the new names to the public. Enjoy yourself in the…whatevers!
That was written as the staff looked ahead at what they could only expect to be a decade full of promise and profits. How quickly that plan went awry. Compare the message of that comment from nearly ten years ago with a portion of the magazine's cover story in the most recent issue. Reflecting on the decade gone by, writer Andy Serwer says:
Bookended by 9/11 at the start and a financial wipeout at the end, the first 10 years of this century will very likely go down as the most dispiriting and disillusioning decade Americans have lived through in the post–World War II era. We're still weeks away from the end of '09, but it's not too early to pass judgment. Call it the Decade from Hell, or the Reckoning, or the Decade of Broken Dreams, or the Lost Decade. Call it whatever you want — just give thanks that it is nearly over.
And there it is, as clear as night and day. "The Whatevers" started with a looser and more upbeat tone to them and now end with a much different feel. Through terrorism, wars, a severe recession and more, we've somehow managed to persevere through "The Whatevers." During that period, the term's connotation has changed.
It emerged as a last-resort option to appease everyone who'd rejected all other names. It rejected no offerings as being too stupid or lame because it recognized that all of the proposals were stupid and lame; this strategy made everything – and everyone – acceptable. Over time, though, "whatever" morphed into something else. "Whatever you want, you got" turned into  a less involved, less enthusiastic and less caring "whatever" attitude. Some Americans have adopted a doomsday outlook to cope with a world where bad news never fails to stop piling on. The 'Whatever" generation rolls its eyes, shakes its head, and talks about how things can't get any worse. What hurts most is remembering times when things weren't nearly as bad.
So was this the decade from hell? It very well may have been. But Time's first prediction says a lot more about how this decade  impacted Americans emotionally. And as we look ahead at the next decade, one can only hope that fortune will shift to a new era of "Whatever" defined by a more hopeful approach of "Que sera, sera."
Related:
The '00s: Goodbye (at Last) to the Decade From Hell [Time]
The Zips Were Robbed [Time, Jan. 1, 2000]
Have a tip we should know? tips@mediaite.com