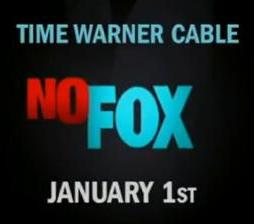 Though we came very close to a television doomsday, Time Warner and Fox parent company News Corporation reached a last minute deal that prevented a blackout of Fox stations on the cable service, the New York Times is reporting.
Thursday, Mediaite's Steve Krakauer considered the reality of a Fox/Time Warner split, even for a small while, writing, "The possibility of a last minute deal looms -– but as each side remains unwavering, there's a chance that, for at least a few hours, FOX and its cablers are headed off Time Warner Cable." As it turns out, there was a breakthrough in negotiations and there was no such blackout, good news especially for fans of Tim Tebow, whose final game as a college quarterback aired on Fox Last night.
The Times reported:
Analysts had expected that the deal would set a new high-water mark for local TV stations that want sizable subscriber fees in exchange for so-called retransmission rights.

In tense negotiations with Time Warner Cable, Fox had demanded about a dollar a subscriber per month, far more than other stations have received. Time Warner Cable thought 30 cents was more reasonable, said people briefed on the talks who insisted on anonymity because the specifics of the talks were confidential.

Most likely, the two companies reached a compromise on the price, but both refused to comment Friday on the figure.
Read more about Fox's "economic template for the future" here.
Time Warner and Fox Reach a Cable Deal [New York Times]
Have a tip we should know? tips@mediaite.com