Tina Brown On Newsweek Cover Of Princess Di: 'Some People Think its Kind Of Spooky'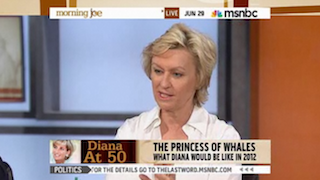 Yesterday, we wrote about the disturbing Newsweek cover and cover story in which Tina Brown and some Photoshop artists resurrected Princess Diana. Unsurprisingly, quite a few people (including our own Lizzie Manning) have found the faked images of Di holding an iPhone to be as unsettling as Natalie Cole's duet with her dead father and Hayden Christensen's shoehorned-in cameo in new versions of Return of the Jedi. Today on Morning Joe, Brown was asked about the less than thrilled response and she mostly settled on the "no such thing as bad publicity" reasoning.
Joe Scarborough brought up the controversial cover during the last minutes of Brown's appearance, coyly asking how people were reacting (like you don't know, Joe). Here was Brown's reply:
"Well, it went absolutely viral in the last two days because the cover has created this huge debate. Some people think it's kind of spooky and 'Should we have done it?' and others think it's very effective. I think it's a very intriguing package to show what she'd be like today."
Sure, some people are saying they hate it but, hey, at least they're saying the name Newsweek, right?
I'm of two minds about this. Personally, I've always found alternate histories fascinating, everything from Phillip Roth imagining a Charles Lindbergh presidency to Magneto assisting in the Cuban Missile Crisis. Why should any woman, even such a beloved woman, be out of bounds? Still, I think the problem a lot of people have is seeing it as exploitative. They feel like Brown and company are purely using the image of a dead woman to sell magazines when they should be covering actual news.
This is a fair argument. There's a reason why my unpublished manuscript for Anne Frank and Anastasia: Time Traveling Adventurers is only an excellent sci-fi epic (publishers and agents, please contact me for details) and not being touted as a news story.
Watch the clip from MSNBC below:

Have a tip we should know? tips@mediaite.com