It's easy to find fault with the ubiquity of cameras in our lives and how we document every moment of every day, but one area where our self-imposed surveillance culture can often come in handy is in our interactions with the police. Even as many police departments around the country have officers recording arrests, a case over the weekend in Knoxville, Tenn. — like ones earlier in the year from New Jersey, and Nebraska — show how the official record of events isn't always as the police report. It's no longer simply your word against theirs when it comes to arrests; now it's your footage against theirs.
Knox County Sheriff's officer Frank Phillips found out that it's not as easy to brush abuse of a suspect under the rug anymore when he was fired for assaulting a defenseless man while he was handcuffed by two other officers. Phillips was shown in photos, taken by photographer John Messner, later published in the Daily Mail, squeezing 21-year-old University of Tennessee student Jarod Dotson around the neck until he fell to the ground.
He probably had it coming, right? Punk kid disturbing the peace. The official police report suggested as much, as the Knoxville News Sentinel printed, claiming Dotson "began to physically resist officers' instructions to place his hands behind his back, and at one point grabbed on to an officer's leg."
If by physically resist you mean drop to his knees while the air was choked from his lungs, then sure, this probably counts. GIF of the incident below, via Messner: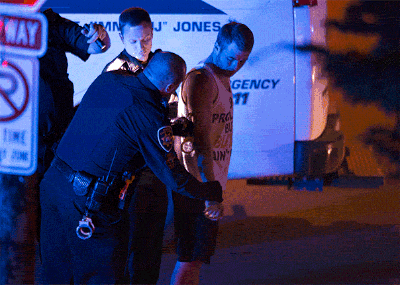 Messner told the Washington Post that no such thing occurred.
Typically in cases like this, as in the one last week from Green Bay, police forces will announce they're gong to conduct an internal investigation. But Knox Countt Sheriff Jimmy Jones acted decisively in his firing of Phillips, explaining in a press release:
"In my 34 years of law enforcement experience, excessive force has never been tolerated. After an investigation by the Office of Professional Standards, I believe excessive force was used in this incident. Therefore, Officer Phillips' employment with the Knox County Sheriff's Office is terminated immediately. The investigation will now be turned over to the Knox County Attorney General's Office to determine any further action."

"This incident provides a perfect example of why we are in the process of purchasing officer worn body cameras (video and audio recordings) so incidents like this will be fully documented."
The use of cameras by police has been shown to reduce the number of complaints and use of force by officers in towns like Rialto, California.
"When you put a camera on a police officer, they tend to behave a little better, follow the rules a little better," Rialto Police Chief William A. Farrar has said. "And if a citizen knows the officer is wearing a camera, chances are the citizen will behave a little better."
— —
>> Luke O'Neil is a journalist and blogger in Boston. Follow him on Twitter (@lukeoneil47).
Have a tip we should know? tips@mediaite.com