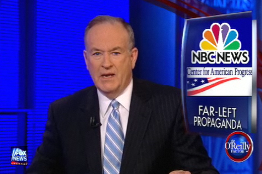 In a sign of the cable news apocalypse, Fox News and MSNBC may no longer be at each others throats.
A report by Brian Stelter in the New York Times, and another by Joe Flint in the Los Angeles Times, reveals a deal that began at the top of each organization, and has led both networks to tamper down the criticism. It sounds like a historic truce between two longtime enemies – and a truce that both organizations clearly did not want public. Now it opens the door to more questions than before.
The only person quoted on the record in the Times story was a G.E. spokesperson who gave a general comment. The reason for this is clear – revealing the deal helps no one, either at Fox or at NBCU.
Here's how Stelter described the deal, which he writes started between Jeffrey Immelt of G.E. and Rupert Murdoch of News Corp.
Both moguls expressed regret over the venomous culture between the networks and the increasingly personal nature of the barbs. Days later, even though the feud had increased the audience of both programs, their lieutenants arranged a cease-fire, according to four people who work at the companies and have direct knowledge of the deal.

In early June, the combat stopped, and MSNBC and Fox, for the most part, found other targets for their verbal missiles (Hello, CNN).

"It was time to grow up," a senior employee of one of the companies said.
"It was time to grow up"? For whom? Cable news viewers on both sides don't want to be talked down to like they're children, even if their angry host of choice sometimes acts like one.
There's a chance this will all go away, but the more likely result of this deal going public is it will ruffle the feathers of the hardcore fans of both networks, and specifically both 8pmET hosts Bill O'Reilly and Keith Olbermann.
An NBCU insider tells Mediaite: "From a GE corporate perspective, this bickering needed to end. But this article now puts Olbermann and O'Reilly in a tough spot. They're both going to want to prove to their viewers that they didn't cave because of some back room corporate deal. In particular, a deal to stop attacking an entity (MS or FOX) many of their viewers despise."
Salon's Glenn Greenwald raises another issue:
So now GE is using its control of NBC and MSNBC to ensure that there is no more reporting by Fox of its business activities in Iran or other embarrassing corporate activities, while News Corp. is ensuring that the lies spewed regularly by its top-rated commodity on Fox News are no longer reported by MSNBC. You don't have to agree with the reader's view of the value of this reporting to be highly disturbed that it is being censored.
Plus, it makes people question a host's motives. On June 1 Olbermann called an end to his O'Reilly persona. "So as of this show's end, I will retire the name, the photograph, and the caricature," he said. Now the question becomes – was it all part of the directive?
But let's step back for a minute, and look at the reality of the situation. Maybe the idea this feud is really over is a bit of an exaggeration. For one thing, if June 1 signaled the beginning of the end, as Stelter wrote, then how come Olbermann continued attacks on Fox News, Murdoch and, yes, even O'Reilly (in relation to his Joan Walsh Tiller interview) after the date? (TVNewser has a source with another critique of the Times story.) O'Reilly has not held back either – he's talked about G.E., as has Glenn Beck.
And speaking of Beck – MSNBC couldn't stop talking about him for several days this week.
The question now becomes what happens on Monday (and in the near future). Reports of an attempted deal between the two entities is not entirely new – Howard Kurtz wrote about talks back in May 2008. But if this one is really happening, we'll see it in the coverage. Olbermann is not one to shy away, or listen to management. And having the G.E. spokesperson in the Times story discuss a "certain level of civility" that "needed to be introduced into the public discussion" had to have irked the MSNBC host – maybe to the point of addressing the issue head-on (to the likely headaches of execs at 30 Rock). O'Reilly may not touch the topic, but if he completely drops the G.E.-Iran storyline, some may start to question the News Corp. influence on his top-rated program.
The news of a deal is more important than the deal itself – and it's going to be a problem for all parties involved.
• Inside Cable News looks at the timeline of events.
—–
» Follow Steve Krakauer on Twitter
Have a tip we should know? tips@mediaite.com