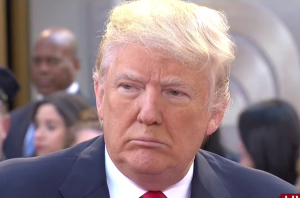 In an interview with Fortune magazine, Donald Trump appeared to go back on his pledge to completely eliminate the national debt.
"You've said you plan to pay off the country's debt in 10 years. How's that possible?" Fortune asked.
"No, I didn't say 10 years," Trump said. "First of all, with low interest rates, you can think in terms of refinancings, and get it down. I believe you can do certain things to pay off the debt more quickly."
"How much of the debt could you pay off in 10 years?" they asked.
"You could pay off a percentage of it," Trump demurred. When pressed, he declined to state what percentage.
But that's not what Trump said when pressed by The Washington Post 's Bob Woodward in March. On the contrary, he said he would completely eliminate the debt in only eight years.
Trump: "We've got to get rid of the $19 trillion in debt."

Woodward: "How long would that take?"

Trump: "I think I could do it fairly quickly, because of the fact the numbers…"

Woodward: "What's fairly quickly?"

Trump: "Well, I would say over a period of eight years. And I'll tell you why."

Woodward: "Would you ever be open to tax increases as part of that, to solve the problem?"

Trump: "I don't think I'll need to. The power is trade. Our deals are so bad."

Woodward: "That would be $2 trillion a year."

Trump: "No, but I'm renegotiating all of our deals, Bob.
Incidentally, that claim earned Trump "Four Pinocchios" from WaPo's Fact Checker. "Trump is insulting the intelligence of Americans for making such a claim in the first place," they said bluntly.
[Image via screengrab]
——
>>Follow Alex Griswold (@HashtagGriswold) on Twitter
Have a tip we should know? tips@mediaite.com