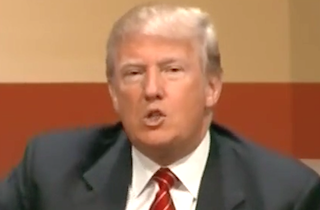 Celebrity plutocrat Donald Trump showed no signs of backing down from his criticism of Senator John McCain (R-AZ) Monday morning, excoriating the senator in an op-ed for USA Today for "abandoning our veterans."
After seismic criticism from (most of) the rest of the GOP field, Trump has switched from attacking McCain's war record to assailing his "failure" to treat veterans.

"McCain has abandoned our veterans," Trump wrote. "I will fight for them." He continued:
The reality is that John McCain the politician has made America less safe, sent our brave soldiers into wrong-headed foreign adventures, covered up for President Obama with the VA scandal and has spent most of his time in the Senate pushing amnesty. He would rather protect the Iraqi border than Arizona's. He even voted for the Iran Nuclear Review Act of 2015, which allows Obama, who McCain lost to in a record defeat, to push his dangerous Iran nuclear agreement through the Senate without a supermajority of votes.
Trump also went after other GOP candidates — such as former Texas Governor Rick Perry, who has called for Trump to exit the race — reiterating his belief that they're sniping at his heels because he's ahead in the polls.
"A number of my competitors for the Republican nomination have no business running for president," he wrote. "I do not need to be lectured by any of them. Many are failed politicians or people who would be unable to succeed in the private sector."
Meanwhile, McCain responded to Trump on Morning Joe, saying the real estate mogul owes all POWs an apology.
[h/t USA Today]
[Image via screengrab]
——
>> Follow Evan McMurry (@evanmcmurry) on Twitter
Have a tip we should know? tips@mediaite.com