Trump: Prep School Gave Me 'More Training Militarily' than Actual Military Could've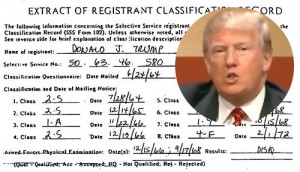 Despite his many draft deferments, Donald Trump claims that his time at a military prep school better prepared him for life in the military than actual military training would have done.
The 2016 GOP presidential candidate made the statement during an interview with former Newsday reporter Michael D'Antonio, whose biography of the New York real estate mogul, Never Enough: Donald Trump and the Pursuit of Success will be published on Sept. 22 by St. Martin's Press. The New York Times received an advanced copy of the book, as well as additional interview excerpts from D'Antonio.
According to Trump, who attacked the "war hero" status of Sen. John McCain (R-Arizona) in July, his education at the New York Military Academy gave him "more training militarily than a lot of the guys that go into the military." His parents sent him there for his eighth grade year when his behavioral problems at Kew-Forest, a "more traditional prep school" located in Queens, became to much for the teaching staff. (He claims he assaulted a music teacher "because I didn't think he knew anything about music.")
Trump attended New York Military Academy, where a single year's worth of tuition currently sits at around $31,000, for five years. As the NYT notes, D'Antonio's book explains that "he wore a uniform, participated in marching drills and was expected to conform to a hierarchy imposed by instructors, some of whom had served in the military." Or as the GOP candidate puts it, "I felt that I was in the military in the true sense because I dealt with those people."
Whether or not this translates into anything remotely comparable to actual military training, however, remains spurious. After all, Trump was able to defer the Vietnam War draft on multiple occasions, and spent much of his time partyin' hardy (while "war hero" McCain served time in a POW camp).
[h/t The New York Times]
[Image via The Smoking Gun/screengrab]
— —
>> Follow Andrew Husband (@AndrewHusband) on Twitter
Have a tip we should know? tips@mediaite.com