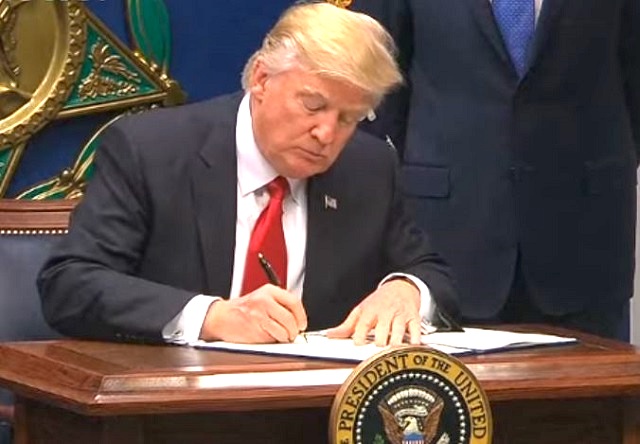 Executive orders have been a huge part of Donald Trump's presidency so far, most notably the "refugee ban" order, so anything that calls them into question is pretty big news. On Tuesday, USA Today reported that they did some digging and found something potentially troubling. What they discovered was that the White House website has, on at least five occasions, hosted versions of Trump's orders that didn't match the official version filed in the Federal Register, two of which contained either inaccurate citations of laws or referenced nonexistent ones. While the version in the Federal Register is the official one, it's not always filed immediately, which requires reliance on the web version in the interim.
Some of the discrepancies that USA Today found in the web versions are:
The travel ban citing the wrong section of the Immigration and Naturalization Act when referring to a requirement for in-person interviews of those seeking non-immigrant visas.
In the order creating new ethical standards for presidential appointees, a nonexistent section of U.S. code is cited.
Copy editing changes in the orders promising a plan to defeat ISIS, reevaluating the "Fiduciary Rule" and the construction of the Dakota Access Pipeline.
The White House did not respond to USA Today's request for comment on Monday. The discrepancies further call into question just how much the orders have been vetted — a constant topic of conversation since the travel ban was signed.
Have a tip we should know? [email protected]